Create Your Alternative Wedding With Classical Music
Monday, March 06, 2017 - 01:11 PM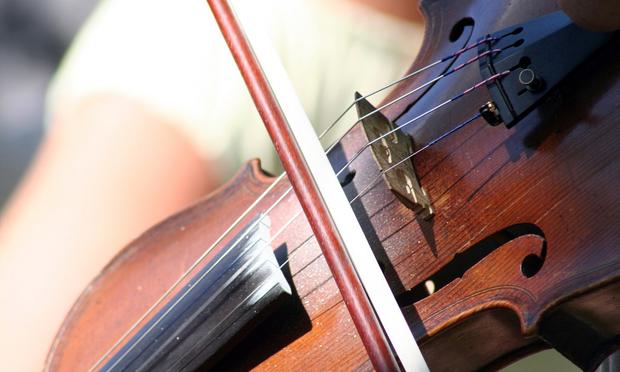 (Waldo Jaquith/Flickr)
Are you tired of the traditional "Here Comes The Bride" processionals and plodding performances of Pachelbel's Canon at weddings? If you're planning on tying the knot this spring, consider slipping some of these alternative classical and jazz suggestions into your wedding.
Nina Simone — "My Baby Just Cares for Me"
What's a wedding without tears? But if you'd rather save the solemnity for the afterparty, skip the cloying ballads and bop down the aisle to this Nina Simone standard instead. Simone revived the song, originally written for the 1930 musical Whoopee!, in 1958 on her debut album Little Girl Blue. On what's most likely the grandest fete you and your partner have thrown thus far, let everyone know: "My baby don't care for shows / And he don't even care for clothes / My baby just cares for me."
Johannes Brahms — Piano Quartet No. 3 in C minor, Op. 60
III. Andante
Brahms started writing his third quartet in a quagmire. On the one hand, his dear friend Robert Schumann, was ill and nearing the end. On the other hand, he was desperately in love with Schumann's wife, Clara, also a pianist and composer. In Brahms' letter to his publisher years later, he outlined a grim proposal for the score's cover illustration: a man with a pistol to his head. "Now you can form some conception of the music! I'll send you my photograph for the purpose," he wrote.
The cello begins the Andante with a line full of longing, accompanied by lilting piano. The violin joins soon after with the same melody, and the viola several minutes later. All reach a fervor that ends as it began, in quiet light.
Michael Giacchino — "Married Life" (from the soundtrack to Up)
From Michael Giacchino's Oscar-winning soundtrack for Up, "Married Life" underscores the movie's opening montage in which Carl and Ellie meet, fall in love, and all but grow old together. Like many of history's great ideas, the melody struck Giacchino in the shower. It's chipper with a nostalgic twinge, as though written in the middle of a carnival, and fitting for an occasion that looks back as it looks forward. This arrangement by Greg Ah Sue, for trumpets and piano, is one possibility among many for your ensemble.
Katy Perry — "Firework" (arr. Time for Three)
The group Time for Three, comprising the violinist Nick Kendall, violinist Charles Yang, and double-bassist Ranaan Meyer, has been described as "America's favourite classically-trained garage band." Their cover of "Firework" by Katy Perry starts with a wink: the melody isn't Perry's, but "Dance of the Princesses' Khorovod" from Igor Stravinsky's The Firebird. If Time for Three can't make it out to your wedding, consider their arrangement inspiration.
Sergei Rachmaninoff — Sonata in G minor for Cello and Piano, Op. 19
III. Andante
Written in 1901, Rachmaninoff's last and possibly most famous contribution to the chamber music repertoire is sometimes called, against his wishes, a "cello sonata." He believed the parts were equal — a notion to which anyone confronting the fearsome piano part, and the frequently accompanimental cello part, can attest. In the third movement, the cellist plays as if confessing: murmuring when she starts, then building to an impassioned release. The piece's history makes it an especially apt pick for your nuptials: Rachmaninoff dedicated it to his best friend, the cellist Anatoliy Brandukov, who later served as the best man in Rachmaninoff's wedding.
More in:
Jennifer Gersten is a freelance writer and musician.
The WQXR e-newsletter. Show highlights, links to music news, on-demand concerts, events from The Greene Space and more.