A Day in the Life: Alarm Will Sound
Tuesday, December 27, 2016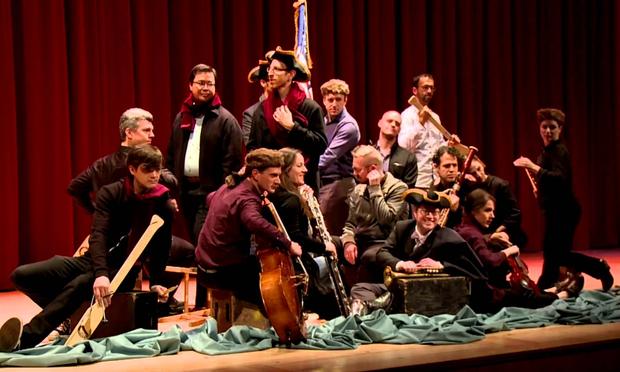 (Courtesy of the Artist)
Living Music. Living Composers.

More
How do artists refresh their creative lives? Every week, one of our favorite artists will take over our Instagram to reveal his or her favorite forms of down-time. Each week, Q2 Music compiles the takeover into a web feature. Follow the live takeovers on our Instagram account and catch the write-up from the latest feature below.
Alarm Will Sound is a 20-member group dedicated to the creation, performance, and recording of contemporary music. The group itself includes many composer-performers, which allows for an unusual degree of insight into the creation and performance of new work.
This week, trombonist Mike Clayville takes us behind the scenes as the group prepares for Splitting Adams, a concert developed in partnership with Q2 Music's Meet the Composer podcast that connects the work of John Adams with Schoenberg and 1950s-era cartoons.
December 15, 2016, 8:13 am:
Good morning from the hardest working band in contemporary classical! Alarm Will Sound  is in STL this week to rehearse and premiere #SplittingAdams, a joint production between AWS and the Peabody Award-winning Meet the Composer. The concert highlights connections between the music of John Adams, "Ren and Stimpy," Schoenberg, and the smell of In and Out Burger (listen to the podcast when it comes out for insights into the relationships). Erin Lesser, flutist, and John Orfe, piano, provide the voices here. (Bonus info: on the "Powdered Toast Man" episode of "Ren and Stimpy," Frank Zappa provided the voice of the Pope.)
10:33 am:
Post-rehearsal exercise. I'm absolutely obsessed with the rhythms of the world - how everyone and everything moves at its own pace but comes together in beautiful ways. 
12:46 pm:
Fuel. AWS requires a lot of calories to create complex music.
5:14 pm:
Back at work. Dress rehearsing for tonight's performance.
7:40 pm:
Happy Holidays from Alarm Will Sound! We got percussion under the tree, what did you get? Q2 said we were allowed five posts so this is likely the last for the day (unless the post-concert hang demands another). Thanks to Q2 for having us! Join Alarm Will Sound on Instagram, Twitter, and Facebook to keep up with us.
More in:
The WQXR e-newsletter. Show highlights, links to music news, on-demand concerts, events from The Greene Space and more.