A Day in the Life: Flutist Gina Luciani
Sunday, September 18, 2016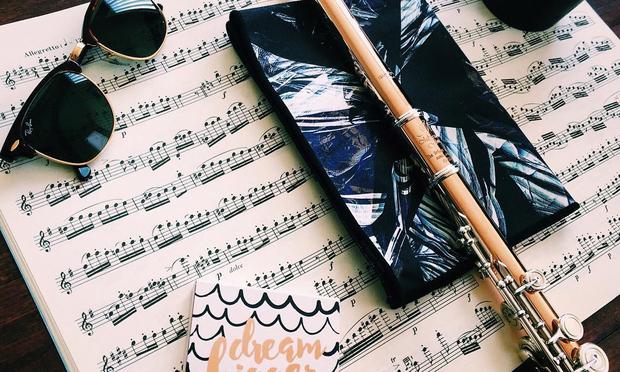 (Courtesy of the Artist)
Living Music. Living Composers.

More

Recommended Links
How do artists refresh their creative lives? Every week, one of our favorite artists will take over our Instagram to reveal his or her favorite forms of down-time. On Monday, Q2 Music compiles the takeover into a web feature. Follow the live takeovers on our Instagram account and catch the write-up from the latest feature below.
Los Angeles-based flutist Gina Luciani floats between the classical, contemporary classical and film music worlds. In addition to her solo and chamber work, Gina has collaborated with legendary artists such as Paul Coletti, Mike Garson, Colin Hay, James Newton Howard, Ronald Leonard, Rickey Minor, Jim Walker and John Williams. In between remote recording sessions for the Netflix series Chef's Table and mental practice while on the stairmaster, Gina finds time to reconnect with her former teachers and soak in the sun by the Venice Canals.

September 14, 2016 - 8:21 am:
Hi everyone! I'm Gina Luciani (@ginalucianiflute) and I'll be showing you what I'm up to today! Thank you so much to Q2 Music for having me 😊 So here we go! I'm drinking some delicious herbal tea and then it's practice time 🎶😎
10:13 am:
I've found that Mental practice can be just as beneficial as physical practice! I like to listen to pieces I'm working on and analyze the music while I'm on the stairmaster. It also helps pass the time 😝 Exercise is so important for musicians. As a flutist, I like to do target exercises to strengthen my back, shoulders and arms. This helps me prevent injury and gets me through long days of recording or rehearsals 💪 On my "stand" is the Liebermann Sonata that I'll be playing with the amazing Alin Melik-Adamyan.

12:15 pm:
Doing a remote recording today for the 4th season of the Netflix series Chef's Table! For this recording I'm playing regular flute, alto flute and my new Native American flute. Chef's Table: France came out earlier this month which I also had the pleasure of playing on! A huge congratulations to composer, Duncan Thum on two Emmy nominations for his work on this show 👏
4:24 pm:
Just finished playing for one of my former professors at the Colburn Conservatory of Music which I attended for my undergrad. I think it's important to remember that no matter where you are in your career you can always learn more. I always love playing for other people to get their feedback (and especially non-flutists!)
6:35 pm:
Taking a breather by the Venice Canals and the Marina. So beautiful 🌴
9:30 pm:
Done practicing for the night 🌃 Thank you again to Q2 Music for having me take over this account for today! Also, thank you to everyone who tuned in and let me share my day with you 💜💙
More in:
The WQXR e-newsletter. Show highlights, links to music news, on-demand concerts, events from The Greene Space and more.