A Day in the Life: Composer and Multi-Instrumentalist Jherek Bischoff
Wednesday, August 17, 2016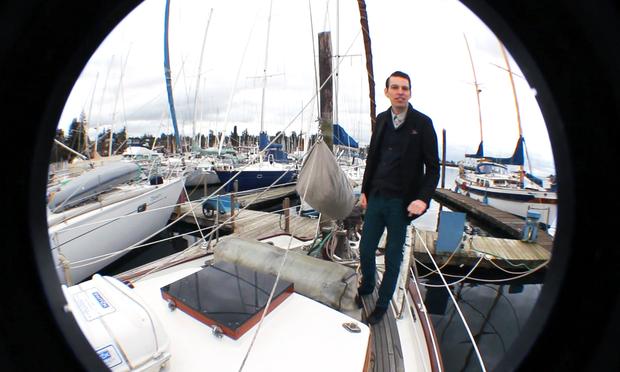 (Kim Nowacki/Q2 Music)
Living Music. Living Composers.

More

Recommended Links
How do artists refresh their creative lives? Every week, one of our favorite artists will take over our Instagram to reveal his or her favorite forms of down-time. On Monday, Q2 Music compiles the takeover into a web feature. Follow the live takeovers on our Instagram account and catch the write-up from the latest feature below.
L.A.–based composer and multi-instrumentalist Jherek Bischoff was born into a musical family, and his many collaborators include David Byrne, yMusic, Neil Gaiman, Ben Folds, Amanda Palmer, Al Gore and more. Fresh off of his European adventures, Jherek pursues his love of candelabras at the local flea market and dishes on some of his favorite vegan meals. 
Sunday, Aug. 14, 2015 — 9:51 am
Good Morning! Jherek Bischoff here starting off this #q2takeover! I usually start off my day with peanut butter puffins, but it's Sunday and I love cooking! Here we have a tofu scramble with sausage links and toast, completely vegan of course because... I am vegan! Check out that hot octopus plate and coffee mug combo and that radical gold cutlery!
12:11 pm:
I just went #candelabracrazy at the Rose Bowl Flea Market! I am rarely up before noon and every time I try to go to the flea, they are closing up shop. I am still on Europe time, so I took advantage of my early rise to look for some candelabras. 
3:32 pm:
I am a man of the sea! I was born and raised on the ocean. Living in Seattle was of course beautiful, but now living in LA it is so wonderful to be on the Pacific Ocean again! I try to get out here once or twice a week when home. It's a particularly busy day today as it's 100 degrees inland! Here's the scene in Venice Beach, Santa Monica!
4:15 pm:
Having linner at Cafe Gratitude. Sorry for the pics of food... I promise I don't normally do that! This place is everything you would think of when thinking of an LA vegan restaurant. Complete with naming their dishes "I am present", "I am humble", "I am magical" etc.. I love it and it is delicious! They also present you a question of the day, today's being "when do you feel most supported?" So Q2 followers, when do YOU feel most supported?
7:23 pm: 
You know that strange lookin' dude that lurks on the other side of the fence at the dog park you take your dog to, that never comes in, doesn't seem to own a dog and is overly excited by every single dog he sees? Yeah, hi! That's me! I am harmless and sincerely just a huge dog lover! One of the saddest things for me about being a musician that travels all the time is that I can't have a dog. Just gone too much to feel right. So I can often be found at the Silverlake Dog Park getting my cute overload fix! Special bonus today was the greyhound! I would say they are my favorite, but really all dogs are!

9:00 pm:
I am home now working on some last details for my shows in NYC this coming week! If you're in the NY area, come see me at my record release show this Friday the 19th at National Sawdust with Contemporaneous and in Times Square on 21-22 for my #midnightmoment Silent Ochestra performances! I have enjoyed taking over Q2Music's feed! Thanks for spending the day with me. Peace! -Jherek
More in:
The WQXR e-newsletter. Show highlights, links to music news, on-demand concerts, events from The Greene Space and more.