A Day in the Life: Nick Zammuto
Wednesday, August 03, 2016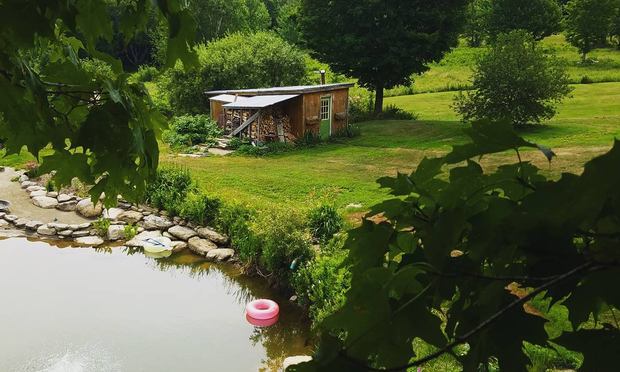 (Courtesy of the Artist)
Living Music. Living Composers.

More

Recommended Links
How do artists refresh their creative lives? Every week, one of our favorite artists will take over our Instagram to reveal his or her favorite forms of down-time. Soon after, Q2 Music compiles the takeover into a web feature. Follow the live takeovers on our Instagram account and catch the write-up from the latest feature below.
Nick Zammuto — of The Books and Zammuto — is a Vermont-based composer who lives off the land and built his own house with his wife. In between scoring a feature film and writing for Roomful of Teeth, Nick finds time to work on a studio he's building from scratch and master Rubik's Cubes with his sons, Sepp and Asa.
July 28, 2016 — 12:34 am: 
Wild blueberry season in VT. HEY everyone, pleasure to take over Q2 INSTAGRAM FOR THE DAY! I'm Nick Zammuto of the Books and 'Zammuto'. I live in the mountains of southern Vermont with my wife and three sons on 16 acres. We've lived here for 10 years now. I try to pick a gallon of blueberries a day this time of year to save for the winter.
10:51 am:
Here's the studio. It's an old tractor garage that I insulated and soundproofed. It's also where I keep our firewood, which we heat with exclusively from October through April. The swimming pond in the foreground was dug this year for my son Asa by the Make-a-wish foundation, as he's been in treatment for cancer over the last two years. The prognosis is good but it's been a long road for him. He's a tough kid and I'm proud of him. 
10:33 am: 
Here's the inside of the studio. Right now I'm working on music for Roomful of Teeth, a soundtrack for a feature film, a new record and many other things.
12:51 pm:
Here's the garden, the chicken yard and the house. We designed and built our house ourselves in 2008, and Molly (my wife) grows most of the food we eat.
2:39 pm: 
This is my summer construction project. A new woodshop/studio that I designed (using sketchup). It's got a torsioned roof...
2:41 pm:
The torsion is created by skewing each rafter by 1 degree from the previous in the series. It's a way to create a curve using all straight lumber.
2:44 pm:
Here's another view. I introduced a curve at the lip of the second floor balcony by ratchet strapping it and cutting the joists to hold the curve. Then a flush cut router bit to match the curve on the decking.
2:51pm:
I finished sheathing the roof yesterday with 1/2" plywood and weatherguard. Next step is to put on the metal roof. The plane of symmetry of the building is corner to corner rather than side to side like most buildings. The benefit here is that all water will drain off the roof to a single point without gutters. I'm planning on putting a pipe under ground to carry the roof runoff directly into the swimming pond.
4:00 pm:
Every day is cube day. The boys and I learned how to solve the 3x3 this spring. Now Sepp (10) and Asa (7) are fully obsessed. Asa just solved the 7x7 for the first time. Here's Sepp with a 17 second solve. He's training for his first speedcubing competition in August right now. He uses F2L with a two-look OLL and PLL algorithm. He's six times faster than me, That little stinker. 
11:42 pm:
I invented these funny things as a way to attach speakers to the end of 4"pvc pipes. I can play various percussive sounds through the pipes and re-record them with the resonance created by pipes of different lengths. You can hear an example of this on track 2 of our new EP called 'veryone'. https://zammuto.bandcamp.com/album/veryone. -- Nick Zammuto, signing off.

More in:
The WQXR e-newsletter. Show highlights, links to music news, on-demand concerts, events from The Greene Space and more.