A Day in the Life: Sam Amidon
Friday, September 02, 2016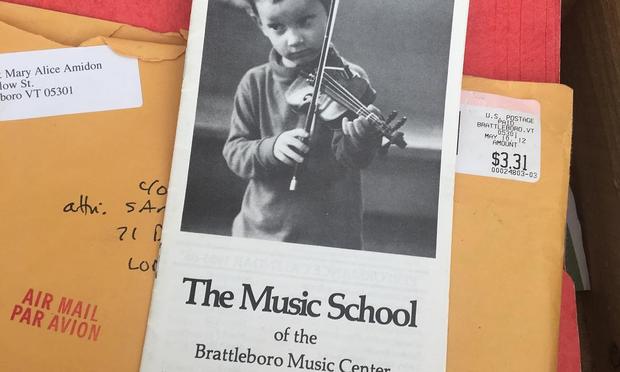 (Courtesy of the Artist)
Living Music. Living Composers.

More
How do artists refresh their creative lives? Every week, one of our favorite artists will take over our Instagram to reveal his or her favorite forms of down-time. On Monday, Q2 Music compiles the takeover into a web feature. Follow the live takeovers on our Instagram account and catch the write-up from the latest feature below.
Sam Amidon is an American violinist, vocalist and folk music specialist living in London. In between spring cleaning and brainstorming upcoming projects, Sam finds time to transcribe Miles Davis with his son and absorb the philosophy of Carl Jung.
September 1, 2016 - 1:03 pm:
GREETINGS- My name is Sam Amidon. I am guest posting today for Q2. This is an average day at my house. We start every morning with 3 hours of extended technique practice. Here is Arthur, age 5, on his trumpet. He is working his way through a set of visual scores he devised himself.

1:24 pm:
At Alexandra Palace, the children do arts and crafts while I read out loud from Carl Jung's "Memories, Dreams, Reflections." Nancy likes the part when Jung has a vision of a great flood coming into Switzerland and the mountains rising up to combat it, and he realizes that he has had a premonition of the coming of The Great War.
2:22 pm:
This is an image from my forthcoming collection, "Texting With Chris Vatalaro."

3:38 pm:
Doing some 'spring cleaning' today and found this... showing off my LEGIT CLASSICAL CREDENTIALS

4:35 pm:
Time for some tea at the Towpath Cafe in De Beauvoir. Arthur is mentally transcribing the first two choruses of Wayne Shorter's solo on "Pinnochio" from the Miles Davis album Nefertiti on his brand new discman. When he has completed his transcription, he will eat the cake.
6:07 pm:
NEW MUSIC POST: Nico Muhly sent me this picture in an email last week w/subject heading "u". 

8:03 pm:
Working on set designs for my all-5-year-old-cast operatic adaptation of The Magic Mountain (Der Zauberberg).

9:46 pm:
If you like "In Sarah, Mencken, Christ and Beethoven There Were Men and Women" by Robert Ashley you will love "The Reason Why I'm Talking S***t" by Eddie Harris. Signing off for the day. It's been great, Q2. -- Sam Amidon

More in:
The WQXR e-newsletter. Show highlights, links to music news, on-demand concerts, events from The Greene Space and more.