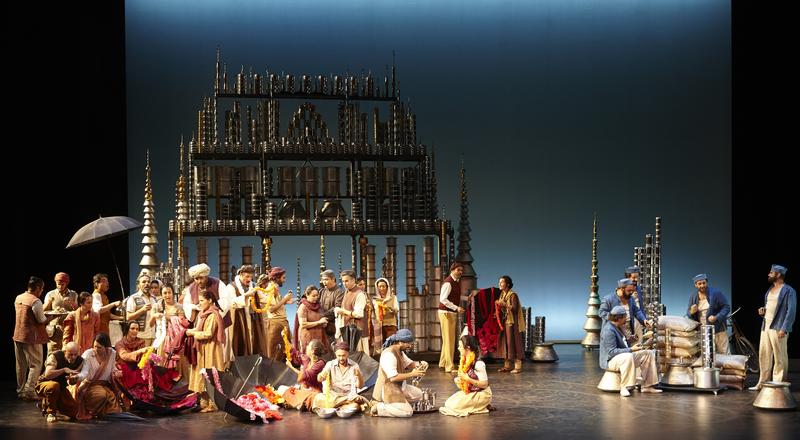 • Listen to the Operavore stream
This week on World of Opera, we'll hear the famous "Flower Duet" straight from the source, when host Lisa Simeone presents a complete production of Lakmé from Switzerland's Lausanne Opera.
The Flower Duet has found its way into television shows, elevators, shopping malls, sound tracks, and commercials. A while back, British Airways memorably used the song in a commercial as a peaceful backdrop to a jetliner floating gently through wisps of clouds. The song is originally intended to establish the exotic setting in Lakme. During the first act, with the story barely underway, the title character and one of her servants pause by a river to gather flowers.
The story of the Brahmin girl Lakmé written by librettist Edmond Gondinet, is based on a memoir by Pierre Loti that recounts his experience living among Tahitian natives and encountering European imperialism. Gondinet gave composer Leo Delibes a copy of Loti's book and it was an immediate inspiration. It took about a year to compose the opera, which premiered in Paris in the spring of 1883.
Lakmé brings together many popular opera themes from the 1880's: an exotic location, mysterious religious rituals, the beautiful flora of the Orient and the general novelty of Western colonials living in a foreign land. At the time, Georges Bizet had put exotic locations in vogue with The Pearl Fishers and Composers Jules Massenet and Giacomo Meyerbeer had written popular operas with similar elements.
The cast includes soprano Julia Bauer and mezzo-soprano Élodie Méchain, who sing the famed duet, with tenor Christoph Berry as Gerald in a performance led by conductor Miguel Ortega.
Program Details:
Conductor: Miguel Ortega
Lakmé: Julia Bauer (soprano)
Gerald: Christoph Berry (tenor)
Nilakantha: Daniel Golossov (bass)
Mallika: Élodie Méchain (mezzo-soprano)
Hadji: Jonathan Spicher (tenor)
Frederic: Boris Grappe (baritone)
Ellen: Céline Mellon (soprano)
Rose: Céline Soudain (soprano)
Lausanne Chamber Orchestra
Lausanne Opera Chorus