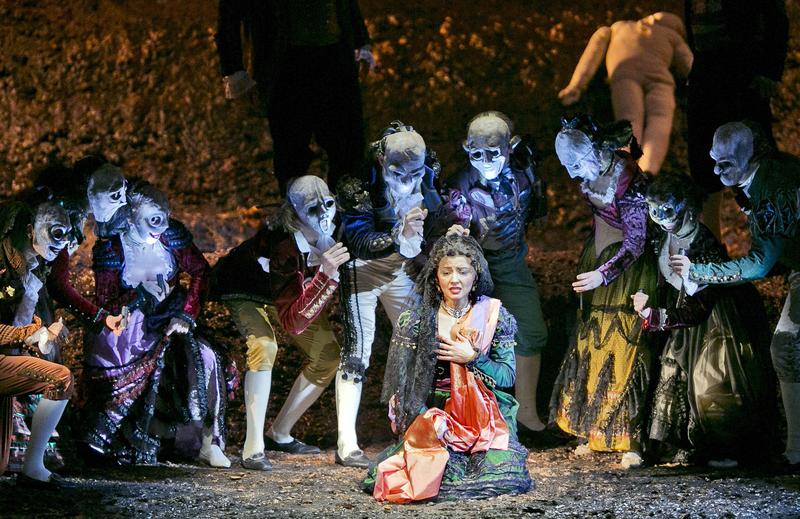 This unusual double bill features Puccini's "Suor Angelica," the mystical one-act middle drama from Puccini's well-known triptych of one-act operas, "Il Trittico,"  plus an opera that began life, literally, at the keyboard. Granados' "Goyescas" is based on music from a popular set of piano pieces inspired by the romantic paintings of Francisco Goya.
Puccini began "Suor Angelica" at about the same time Granados was preparing for the premiere of "Goyescas" in 1916. "Suor Angelica" waited until 1918 for its first performance, though both dramas were premiered at the same opera house, the Metropolitan Opera.
World of Opera host Lisa Simeone presents the double bill from the Teatrio Regio — the Royal Theater — in Turin, Italy.  Soprano Giuseppina Piunti and tenor Andeka Gorrotxategui feature in "Goyescas," with soprano Amarilli Nizza in the title role of "Suor Angelica."
Cast:
In "Goyescas":
Rosario: Giuseppina Piunti (soprano)
Fernando: Andeka Gorrotxategui (tenor)
Pepa: Anna Maria Chiuri (mezzo-soprano)
Paquiro: Fabián Veloz (baritone)
In "Suor Angelica":
Sister Angelica: Amarilli Nizza (soprano)
Princess: Anna Maria Chiuri (mezzo-soprano)
Abbess: Maria Di Mauro (mezzo-soprano)
Monitress: Silvia Beltrami (mezzo-soprano)
Sister Genovieffa: Damiana Mizzi (soprano)
Sister Osmina: Nicoletta Baù (soprano)
Teatro Regio Orchestra, Chorus and Children's Chorus
Children's Chorus of the Giuseppe Verdi Conservatory
Donato Renzetti, conductor