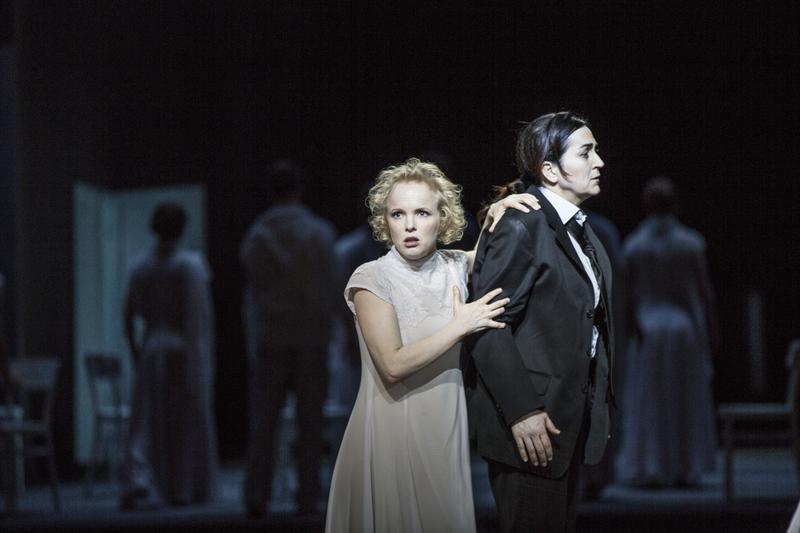 • Listen to the Operavore stream
On World of Opera, host Lisa Simeone brings us a fascinating double bill featuring Claudio Monteverdi's Orfeo and Christoph Willibald Gluck's Orfeo ed Euridice. Orfeo comes to us from the Misteria Paschalia Festival in Kraków, Poland and Orfeo ed Euridice, is a production from the Göteborg Opera in Sweden.
In Monteverdi's Orfeo, along with other operas of the time, music was seen as a tool to serve the story. Words were set in a simple, declamatory style with music that illuminated the poetry and drama of the libretto in a straightforward, no-frills manner.
As the 18th century rolled around "opera seria" was all the rage and vocal talent became the center piece of the opera (more so than the libretto). Vocal acrobatics,  like drawing out a word over dozens of notes, became common place. By the middle of the 1700s some composers were fed up with "opera seria" and decided to reform opera. 
Chief among them was Gluck, who headed a movement to take opera back to its roots. His operas used modest musical scores that expressed the drama and poetry of the libretto's words-- not unlike Moteverdi's operas. It's no coincidence then, that Gluck produced the same story that inspired Monteverdi more than 150 years earlier: the story of the legendary poet and musician Orpheus who sought out his dead wife Eurydice in the underworld.
In this production of Monteverdi's Orfeo tenor Anicio Zorzi Giustiniani sings the title role and conductor Claudio Cavina leads the orchestra. The Göteborg Opera production of Gluck's Orfeo ed Euridice features soprano Katerina Karnéus as Orfeo and is led by conductor Laurence Cummings.
Cast:
In Monteverdi's Orfeo:
Conductor: Claudio Cavina
La Musica/Euridice: Roberta Mameli (soprano)
Orfeo: Anicio Zorzi Giustiniani (tenor)
Messaggiera/Speranza: Marina de Liso (mezzo-soprano)
Proserpina: Giurgia Milanesi (soprano)
Plutone/Apollo: Ugo Guagliardo (bass)
Caronte: Salvo Vitale (bass)
La Venexiana Orchestra
Capella Cracoviensis Chamber Chorus
In Gluck's Orfeo ed Euridice:
Conductor: Laurence Cummings
Orfeo: Katerina Karneros (soprano)
Euridice: Kerstin Avemo (soprano)
Amore: Mia Karlsson (soprano)
Göteborg Opera Orchestra and Chorus