The Dreamers
This is a repeat of an episode which aired on Saturday, August 31, 2013.
Saturday, January 25, 2014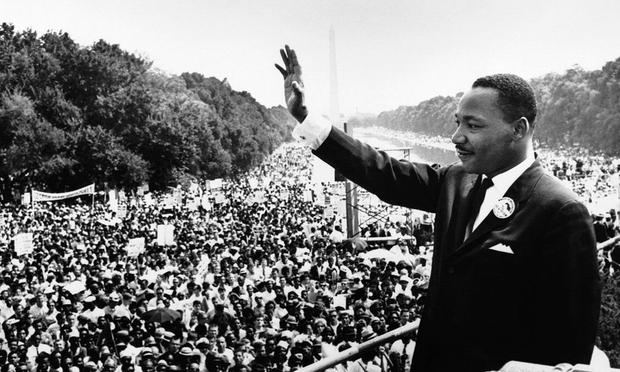 (U.S. Department of Defense/Wikimedia Commons)
As the country marked the legacy of Dr. Martin Luther King, Jr. this past week, this week's edition of All Ears considers the musical legacy of the civil rights leader. Host Terrance McKnight explores music by American, French and Canadian composers that represent the ideals of liberty, equality and self-awakening.
A Dream Universal on this edition of All Ears.
Playlist:
Drommarna (Dreams)
Jean Sibelius
Jubilate Choir
Astrid Riska, conductor
Ondine 805
Dream
John Cage
Leo Smit, piano
Music Masters
Elusive Dreams
Carleton Macy
Ancia Saxophone Quartet
Dee Langley, accordion
Naxos
Reve Charmant-Nocturne
Thomas Wiggins
John Davis, piano
Newport
String Quartet No. 1, "American Dreams"
Peter Schichkele
Audubon Quartet
Centaur
Canticle of Freedom
Aaron Copland
Seattle Symphony Orchestra
Gerard Schwarz, conductor
Seattle Symphony Chorale
Delos
Three Dream Portraits
Margaret Bonds
Alison Buchanan, soprano
Terrence Wilson, piano
Ritz Chamber players
Reverie
Claude Debussy/Jacques Loussier
Jacques Loussier Trio
Telarc
The Passion of Martin Luther King
Nicolas Flagello
Oregon Symphony
James DePreist, conductor
Portland Symphony Choir
Raymond Bazemore, bass
KOCH International
You are (Variations): You Are Wherever Your Thoughts Are
Steve Reich
Los Angeles Master Chorale
Grant Gershon, conductor
Nonesuch
Le Pays de reves, Op. 39/3 (The Land of Dreams)
Gabriel Faure
Elly Ameling, soprano
Dalton Baldwin, piano
Angel/EMI