On-Demand Audio: Electronics and Incantations at 2014 Ferus Festival
Recorded Live at The Stone on May 15, 2014
Tuesday, August 05, 2014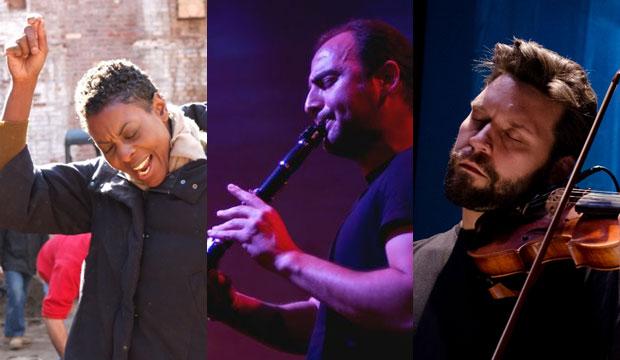 (Jill Steinberg)
New-music mainstay, violinist Cornelius Dufallo joined singer Helga Davis (Einstein on the Beach) and clarinetist Kinan Azmeh on May 15 for a set of exploratory, original music as part of the third night of VisionIntoArt's 2014 Ferus Festival at The Stone.
Living Music. Living Composers.

More
The evening opened with For Mickey – a pensive memorial to the late arts patron Mickey Straus co-written and performed by Davis and Dufallo. Both musicians were fed into a loop pedal, creating spacious and often eerie textures.
All of the pieces were performed without break, each blending seamlessly into the next. Davis's Helga Mania, a work with buzzing, looped vocal effects and steady narration gave way to Dufallo's expansive Aphelion for solo clarinet. The title refers to the point in the orbit of a planet or comet where it is farthest from the Sun. 
Composer-clarinetist Kinan Azmeh's A Sad Morning, Every Morning matched trance-like tones in the clarinet with wordless cries for voice, before transitioning into Dufallo's reverb- and electronics-heavy Passacaglia for solo violin. The concert concluded with an arrangement for all three composer-performers of Azmeh's electric, ritualistic How Many Would it Take?.
VisionIntoArt (VIA), the multimedia production company co-founded at the Juilliard School in 1999 by composer Paola Prestini has commissioned works from composers, choreographers, poets, filmmakers and other artists, with particular emphasis on cross-disciplinary collaborative projects.
Complete Program:
Helga Davis and Cornelius Dufallo - For Mickey
Helga Davis - Helga Mania
Cornelius Dufallo - Aphelion
Kinan Azmeh - A Sad Morning, Every Morning
Cornelius Dufallo - Passacaglia
Kinan Azmeh - How Many Would It Take?
This concert was recorded and mixed by Jay Eigenmann.
The WQXR e-newsletter. Show highlights, links to music news, on-demand concerts, events from The Greene Space and more.