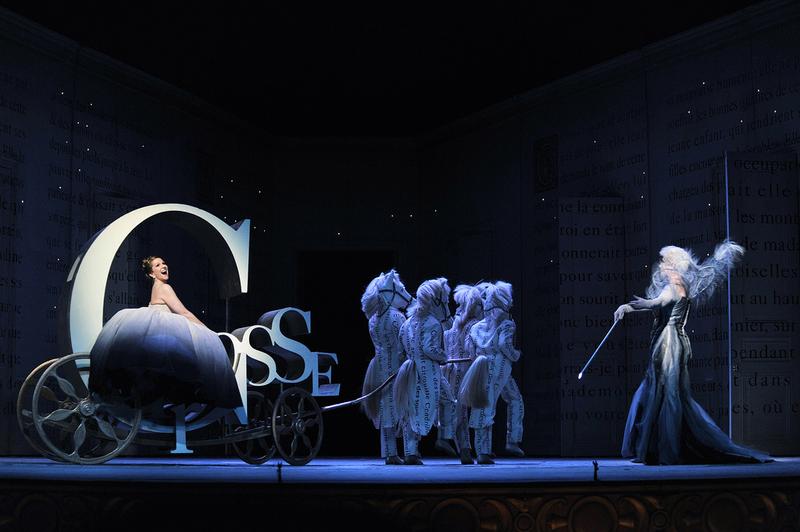 • Listen to the Operavore stream
This week on World of Opera, host Lisa Simeone presents Cendrillon from the Grand Liceu Theatre in Barcelona. Joyce DiDonato stars as Cinderella and Alice Coote as the young Prince Charming. 
What girl hasn't dreamed about a darling prince slipping a glass stiletto onto their foot? For those more familiar with Cinderella, Cendrillon is the same story as the Disney classic without the technicolor and with a more robust score.
At first glance, it might seem that comparing an animated Disney film to a 19th-century French opera would be something of a stretch. After all, Disney's Cinderella and Massenet's Cendrillon are from two different eras, with very different sensibilities. The movie is, relatively speaking, "modern" entertainment. It feels like something from our own era -- something we can identify with. And the opera? Well, it's from whatever era French Romantic opera came from. Which is to say, it's from "a long time ago." 
The two have the story in common, of course. It's been around forever and Massenet uses what's probably the most popular version, complete with Cinderella's famous glass slippers. As far as the music goes, Massenet hardly takes a back seat. He was one of history's most successful theater composers with a whole career's worth of hits to his name and this opera is one of his very best.
The production is led by conductor Andrew Davis and includes Ewa Podlés as the Wicked Stepmother and Annick Massis as the Fairy. 
Cast:
Conductor: Andrew Davis
Cinderella: Joyce DiDonato (mezzo-soprano)
Madame Haltière: Ewa Podlés (contralto)
Prince Charming: Alice Coote (soprano)
The Fairy: Annick Massis (soprano)
Pandolfe: Laurent Naouri (bass)
Noémie: Cristina Obregón (soprano)
Dorothée: Maris Martins (mezzo-soprano)
The King: Luis Cansino (baritone)
Orchestra and Chorus of the Grand Liceu Theatre