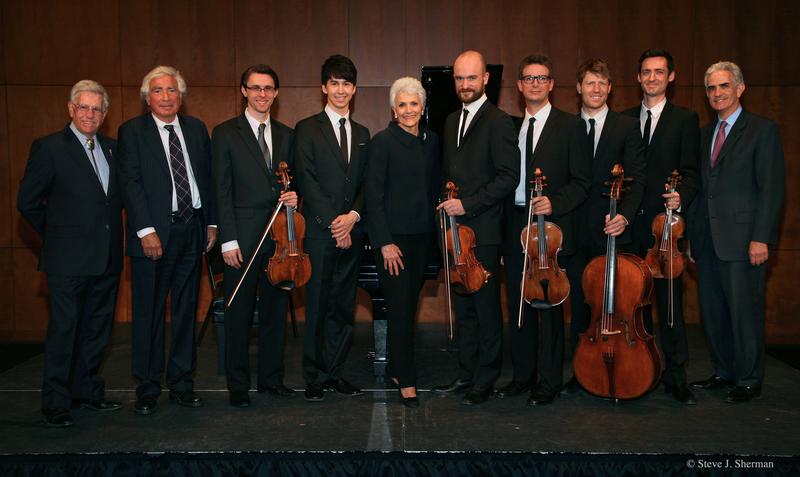 This week's Young Artists Showcase features an encore broadcast of the Avery Fisher Career Grant Program's 40th anniversary gala concert, with performances by the 2014 recipients: violist Dimitri Murath, pianist Charlie Albright, and the Calder String Quartet.
The Avery Fisher Career Grant program was established 40 years ago by the inventor and philanthropist Avery Fisher to help young musicians in the early stages of their careers. Previous grantees include Joshua Bell, Edgar Meyer, Jeffrey Kahane, Jeremy Denk, Hilary Hahn and Sarah Chang.
The Avery Fisher Career Grant recipients do not apply or audition, but are nominated and selected by conductors, composers, musicians, managers and presenters. Since the first public ceremony in 1976, WQXR has been the broadcast partner of the Avery Fisher Career Grant program.
This past March, Bob Sherman hosted a private recital with the 2014 grant recipients at Lincoln Center's Kaplan Penthouse. After greetings from Lincoln Center President Jed Bernstein and Avery Fisher Artist Program Chairman Nathan Leventhal, violist Dimitri Murrath started off the program with Debussy and Ligeti.
Pianist Charlie Albright followed up with a Liszt transcription of a song by Robert Schumann. Albright has shown off his improvisation technique before on the showcase, but this time he created a work from notes suggested by the audience: C, F-sharp, B-flat and A. To close out the gala evening, the Calder Quartet performed movements from pieces by Thomas Adès and Maurice Ravel.

Program Details:
Claude Debussy: Première rhapsodie pour clarinette (transcribed for viola)
— Dimitri Murrath, viola; Ieva Jokubaviciute, piano.
György Ligeti: II. Loop from Sonata for Viola Solo
 — Dimitri Murrath, viola.
Schumann-Liszt: "Widmung" S.566
Charlie Albright: Improvisational Composition on notes from audience
— Charlie Albright, piano.
Thomas Adès: IV. "The Twenty-Fifth Hour" from The Four Quarters
Maurice Ravel: II. Assez vif, très rythmé from String Quartet in F
— Calder Quartet: Benjamin Jacobson and Andrew Bulbrook, violin; Jonathan Moerschel, viola; Eric Byers, cello.

Excerpt: Adolf Schulz-Evler: Concert Arabesques on "The Beautiful Blue Danube"
— Charlie Albright, piano.