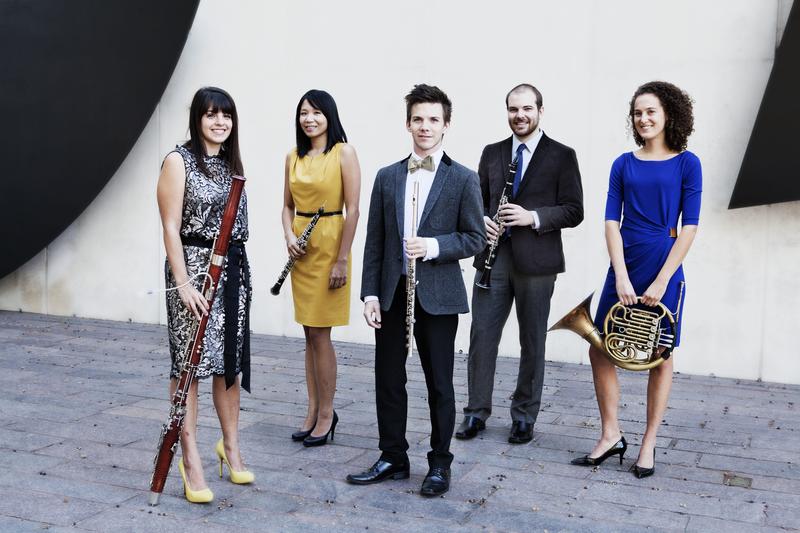 The quintet WindSync aims to "channel the boy band mentality," as they explain on this week's Young Artists Showcase, an encore episode from a studio session recorded this past November.
In 2012, the young ensemble took home the top award at the Concert Artist Guild's Victor Elmaleh International Competition as well as the Hewlett Adventurous Artist Prize. Currently ensemble-in-residence with the Grand Teton Music Festival, WindSync performs creative and engaging repertoire, including many original arrangements. For this session in the Young Artists Showcase studio, WindSync brought arrangements of popular works by Piazzolla and Bernstein, as well as wind quintets by Anton Reicha and David Manslanka. The group made its New York debut in November 2013 at Carnegie's Weill Hall.
Program details:
Anton Reicha: Wind Quintet in E-flat major, Op 88, No. 2, finale and first movement.
David Maslanka: Quintet No 3 for Winds, first movement.
Ástor Piazzolla: Café 1930 from Histoire du Tango.
Leonard Bernstein (Arr. Jack Marquardt): Overture from Candide.
— WindSync: Garrett Hudson, flute; Erin Tsai, oboe; Jack Marquardt, clarinet; Tracy Jacobson, bassoon; Anni Hochhalter, horn. Recorded live in the Young Artists Showcase studio.