Metropolitan Opera
Enjoy New Year's Eve with the Met's Broadcast of 'L'Italiana in Algeri'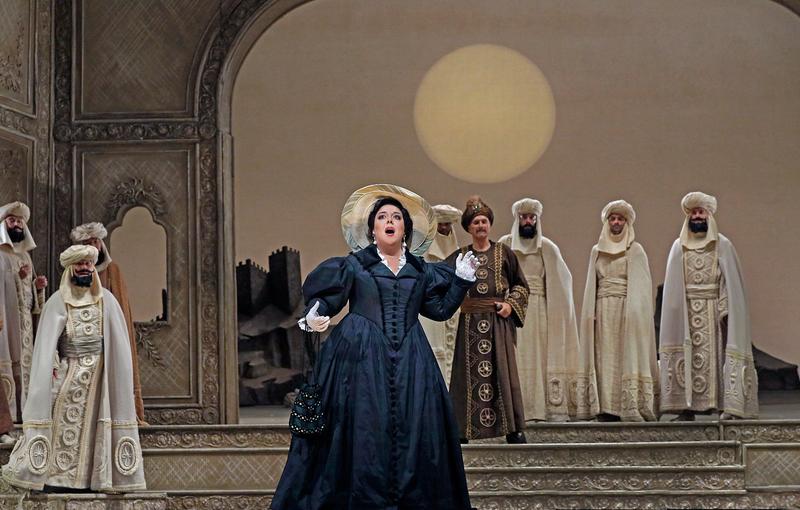 A fall 2016 production of Rossini's L'Italiana in Algeri is your New Year's Eve Metropolitan Opera broadcast. At 1 pm, experience the farcical tale of botched marriage arrangements, tangled lovers and lots of food and drink. Or, depending on who you're talking to, a deeply veiled commentary on early 19th century Italian identity.
Some would argue that Rossini wrote this opera to provide a call to Italian unification, at a time when the peninsula was heavily influenced by a number of foreign states. His heroine Isabella represents Italy as a clever and fast-thinking woman on a mission to flee Ottoman Algiers and return to her native land, with her equally Italian company in tow.
A fine example of dramma giocoso, L'Italiana is a deft blend of the self-serious and comedic. The opera was composed when Rossini was a strapping young man of just 21 years, an impressive feat for any era. The resounding critical success after its 1813 premiere in Venice catapulted the rising star to even higher levels of fame and cemented his reputation as one of Europe's finest composers.
L'Italiana in Algeri is the subject of this week's episode of the He Sang, She Sang podcast and features Operavore columnist and author Fred Plotkin, as well as L'Italiana singers Ying Fang and Rihab Chaieb. You can listen to it here.
Cast:
Conductor: James Levine
Marianna Pizzolato: Isabella
Elvira: Ying Fang
Zulma: Rihab Chaieb
Lindoro: René Barbera
Taddeo: Nicola Alaimo
Haly: Dwayne Croft
Mustafà: Ildar Abdrazakov