The Exquisite Musical Tastes of Author Haruki Murakami
Thursday, November 17, 2016 - 12:00 AM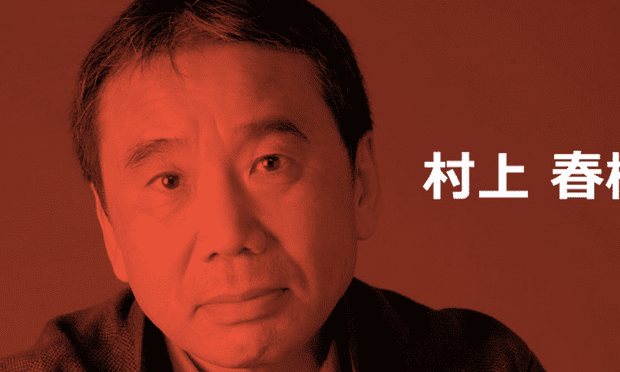 (Haruki Murakami)
Finally, after years of expectation, hype and imagining what gems might be found in its pages, Haruki Murakami's book Absolutely on Music: Conversations with Seiji Ozawa has been released in the United States.
For those of you whose minds have yet to be boggled and bent by Murakami, he is one of the most beloved, respected and popular authors of his generation. Hailing from Japan, his novels, short stories and essays have been translated into 50 languages and sold millions of copies world-wide. Though traversing a variety of styles, Murakami is best known for the magical-realism of his novels, much in the tradition of Salman Rushdie and Gabriel Garcia Márqez. With Murakami, it is preciously delicate: reality never ceases, it is only blurred at the edges.
However, in addition to the talking cats, the second moons and faceless shadow people, (not to mention scenes of torrential erotica), Murakami's novels are marked head to toe with something close to home: music. From Schubert to Duke Ellington to The Beatles (on of his novels is called Norwegian Wood), music is elemental to the atmosphere of the stories. Murakami's references to classical music in particular betray a deep love for the stuff, as well as the understanding that the right piece heard at the right moment can change the course of one's life.
In celebration of Murakami's latest book, a lengthy and intimate conversation on music with legendary Japanese conductor Seiji Ozawa, we present to you five of our favorite classical references in his works. For a complete Murakami Playlist, please do check out Scott Meslow's article from 2015.
1.) Janacek's Sinfonia
"The taxi's radio was tuned to a classical FM broadcast. Janacek's Sinfonietta — probably not the ideal music to hear in a taxi caught in traffic. The middle-aged driver didn't seem to be listening very closely, either. With his mouth clamped shut, he stared straight ahead at the endless line of cars stretching out on the elevated expressway, like a veteran fisherman standing in the bow of his boat, reading the ominous confluence of two currents. Aomame settled into the broad back seat, closed her eyes, and listened to the music." (1Q84, 2011)
2.) Rossini's Thieving Magpie
"When the phone rang I was in the kitchen, boiling a potful of spaghetti and whistling along with an FM broadcast of the overture to Rossini's The Thieving Magpie, which has to be the perfect music for cooking pasta." (The Wind Up Bird Chronicle, 1997)
3.) Beethoven's Archduke Trio
"A deaf composer's like a cook who's lost his sense of taste. A frog that's lost its webbed feet. A truck driver with his license revoked. That would throw anybody for a loop, don't you think? But Beethoven didn't let it get to him. Sure, he must have been a little depressed at first, but he didn't let misfortune get him down. It was like, Problem? What problem? He composed more than ever and came up with better music than anything he'd ever written. I really admire the guy. Like this Archduke Trio — he was nearly deaf when he wrote it, can you believe it? What I'm trying to say is, it must be tough on you not being able to read, but it's not the end of the world. You might not be able to read, but there are things only you can do. That's what you gotta focus on — your strengths. Like being able to talk with the stone." (Kafka on the Shore, 2005)
4.) Schubert's Sonatas
"Playing Schubert's piano sonatas well is one of the hardest things in the world. Especially this, the Sonata in D Major. It's a tough piece to master. Some pianists can play one or maybe two of the movements perfectly, but if you listen to all four movements as a unified whole, no one has ever nailed it. A lot of famous pianists have tried to rise to the challenge, but it's like there's always something missing. There's never one where you can say, Yes! He's got it! Do you know why?
"No," I reply.
"Because the sonata itself is imperfect. Robert Schumann understood Schubert's sonatas well, and he labeled this one 'Heavenly Tedious.'" (Kafka on the Shore, 2005)
5.) Bach's Musical Offering
"I could feel a certain warmth in the mark on my cheek. It told me that I was drawing a little closer to the core of things. I closed my eyes. Still echoing in my ear were the strains of music that Cinnamon had been listening to repeatedly as he worked that morning. It was Bach's Musical Offering, still there in my head like the lingering murmur of a crowd in an auditorium. Eventually, though, silence descended and began to burrow its way into the folds of my brain, one after another, like an insect laying eggs." (Wind Up Bird Chronicle, 1997)
More in:
Justin Sergi is a freelance digital producer for WQXR. 
The WQXR e-newsletter. Show highlights, links to music news, on-demand concerts, events from The Greene Space and more.