The Extraordinary Power of Pianist Emil Gilels
Wednesday, October 19, 2016 - 10:06 AM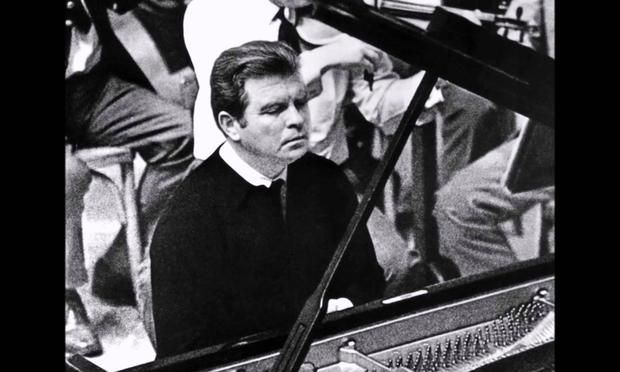 (YouTube screen capture)
As part of the classical music equivalent of the "British Invasion," pianist Emil Gilels was the first of an illustrious group of Soviet musicians to perform in the United States after World War II, along with cellist Mstislav Rostropovich, violinist David Oistrakh and fellow pianist Sviatoslav Richter. Though by any standard an imposing and authoritative pianist, Gilels never sought the note-perfection of his contemporaries, nor did he appear to forcibly submit to classical masterpieces. This week, during the 100th anniversary of his birth, we celebrate Gilels' uniquely humble and genuine voice.
Imagine that you're listening to church bells. Those metallic bellows that announce the hour of the day. Imagine listening all the way to the final resonance of each clangorous strike. When you hear Gilels play certain pieces, he makes the piano sound as though each key were attached to one of those massive, iron bells. What made Gilels' sound so special, though, was that it was overwhelming and immersive without being abrasive or ugly. Even sounds of the most extraordinary power and drama felt like an embrace.
Of course, the ability to bring a huge sound out of the piano was not unique to Gilels. In the 20th century, it was quite common for audiences to be completely blown away by the sheer virtuosity of some pianists, as though they were watching a supernova occur on stage. Of course, Gilels was certainly capable of that, but he could also do the opposite: drawing audiences in with sounds of an incomparable sweetness and delicacy.
Watching Gilels play with that tender, poetic touch is a strange sight. Despite his diminutive height, he had the build of someone you would see in the middle of a rugby scrum, so it's a bit like watching The Rock do ballet. But, it's those moments that make Gilels such a fascinating performer to watch. He also had one of the great faces in classical music history, a true mug ("pugnacious" is a word that comes up when reading about him). When he performed, he always wore that same, somewhat menacing expression: a rather pronounced frown of concentration, pursed lips, eyebrows slanted over beady eyes (truth be told, he had a strong resemblance to Beethoven's death mask). And yet, watching all that seriousness and concentration melt away in surrender when reacting to a beautiful sound is among the most endearing experiences one can have watching the great pianists.
Watching Gilels play, witnessing his emotional transparency and hearing the care with which he listens to every note, it seems more like he's testifying than performing. His reactions and movements are so genuine that one cannot help but be drawn into the truth of his experience.
More in:
Justin Sergi is a freelance digital producer for WQXR. 
The WQXR e-newsletter. Show highlights, links to music news, on-demand concerts, events from The Greene Space and more.