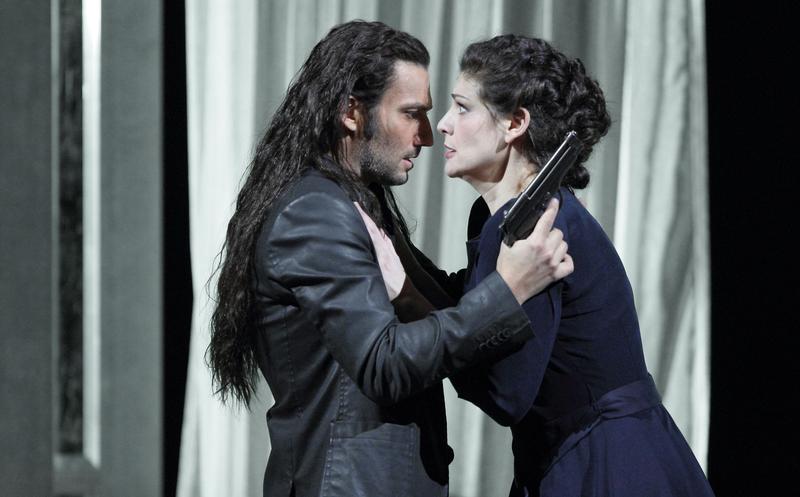 • Listen to the Operavore stream
This week on World of Opera, host Lisa Simeone presents Verdi's La Forza del Destino in a production from the Bavarian State Opera in Munich, featuring a truly distinguished cast. 
Verdi composed as an end to a three year hiatus on composing music. The commission that brought him back to the opera house came from the Imperial Theater in St. Petersburg. After considering a number of subjects for a new opera, Verdi chose a Spanish play called La fuerza del sino -- The Power of Fate. It was adapted by librettist Francesco Maria Piave, who also worked with Verdi on several other operas, including Macbeth and Rigoletto.
The result is a drama with a plot as confounding as the music is compelling, one where a single, unfortunate event drives characters to lifetimes of enigmatic behavior. There's even one character who travels the world, braving war and desolation, in an obsessive quest to murder his own sister.
Still, like fate itself, the power of Verdi's score for the drama is undeniable. The music transforms a thorny story line into one of the most compelling of all his operas. The stars are soprano Anja Harteros as Leonora, tenor Jonas Kauffmann as her beloved Alvaro and baritone Ludovic Tézier as Carlo, who for a moment is Alvaro's ally, but soon becomes his most deadly enemy. The performance is led by conductor Asher Fisch.
Cast:
Leonora: Anja Harteros (soprano) 
Alvaro: Jonas Kauffmann (tenor)
Carlo: Ludovic Tézier (baritone) 
Preziosilla: Nadia Krasteva (mezzo-soprano) 
Calatrava/Father Superior: Vitaly Kovalyov (bass) 
Fra Melitone: Renato Girolami (baritone) 
Trabuco: Francesco Petrozzi (tenor)
Curra: Heike Grötzinger (mezzo-soprano)
Bavarian State Opera Orchestra and Chorus
Asher Fisch, conductor