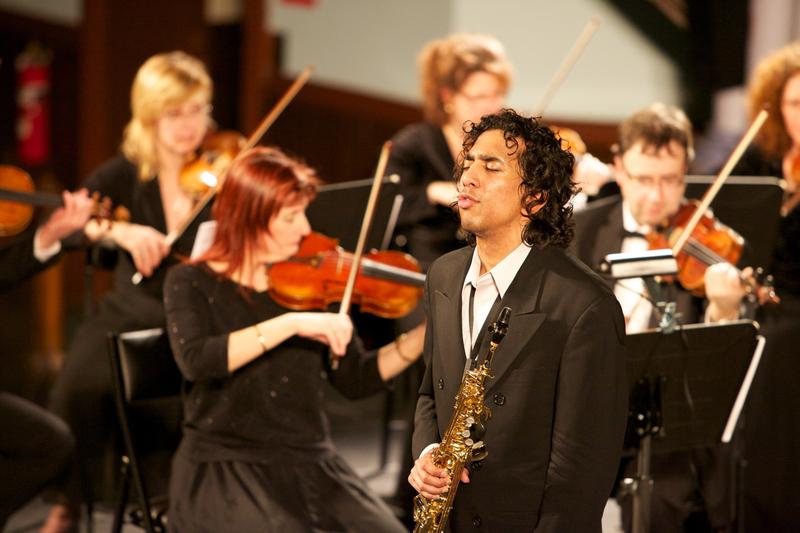 This Young Artists Showcase this week features premieres, as well as return visits, with performances by violinist Noemi Gasparini, saxophonist Ashu and even a reading by former Poet Laureate of the United States Billy Collins.
We briefly heard Gasparini earlier this year as the winner of the concerto competition at the Manhattan School of Music, but in this program she'll get the spotlight. Gasparini plays French works by Chausson and Debussy. Just 19-years-old, Gasparini has already performed internationally as a soloist and in duet with her sister Valentina. The daughter of Mexican and Italian immigrant parents, she speaks fluent English, French, Spanish and Italian. These in-concert recordings are from this past August at the Heifetz International Music Institute in Staunton, Va.
Saxophonist Ashu has appeared many times on the Showcase, most recently as a Salon de Virtuosi Career Grant winner. In this program, he'll present the WQXR premiere of two works: the Saxophone Concerto by Lee Actor; and The Invention of the Saxophone with Collins adding poetic counterpoint to the music by Pierre Jalbert.
As it happens, Showcase host Bob Sherman will narrate the very same pieceat the Copland House in Mt. Kisco, New York this coming Sunday, October 26th at 3pm. Erin Rogers will handle the alto at this performance, with Bob Sherman doing his best Billy Collins impression. Tickets are available at the Aaron Copland House website.
Program details:
Ernest Chausson: Poeme
— Noemi Gasparini, violin; Kyoung Im Kim, piano.
Lee Actor: Second movement from Saxophone Concerto
— Ashu, saxophone; Mission Chamber Orchestra; Emily Ray, conductor.
Pierre Jalbert: The Invention of the Saxophone
— Ashu, saxophone; Billy Collins, narrator; Bernadette Balkus, piano.
Claude Debussy: Violin Sonata
— Noemi Gasparini, violin; Muntzung Wong, piano.
Ida Gotkovsky: Finale from Brillance for alto saxophone and piano
— Ashu, saxophone; Kuang-Hao Huang, piano.