Five Notable Classical Musicians Who Served in World War I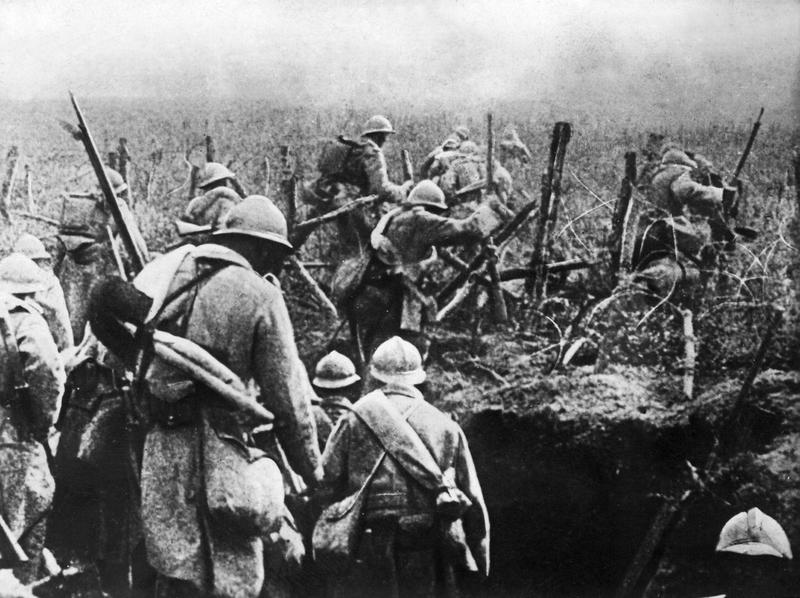 On July 28, 1914, the Austro-Hungarian Empire declared war on Serbia, throwing Europe into the start of World War I, and along with it a number of the era's great composers and musicians. Several promising talents died at the front, others such as pianist Paul Wittgenstein suffered debilitating injuries, and many more were emotionally and mentally scarred by their experiences. Of the group that served, a number chronicled their memories and commemorated their lost friends in subsequent works. Here are five notable composers and performers.
1.  Maurice Ravel
On its surface, Maurice Ravel's piano suite Le Tombeau de Couperin appears to be an ode to the French baroque composer François Couperin. Though the piece does reference Baroque styles, each movement is a dedication to at least one of Ravel's friends who died in the war. A slight man, Ravel didn't weigh enough to serve in the French military, but he found a way around the regulations. He joined a medical unit and then became a truck driver, transporting supplies to the French lines in Verdun. He was discharged after suffering a series of illnesses. In 1929, another World War I veteran, Paul Wittgenstein, who lost his right arm fighting for Austria, commissioned Ravel to write his Piano Concerto for the Left Hand.
2. Alban Berg
Alban Berg was first introduced to the play of Woyzeck in May 1914, and immediately began devising an opera based on this dehumanized soldier. However, Berg was interrupted when he was drafted into the Austro-Hungarian army in 1915. He would draw upon his military experience when he returned to his opera: "There is a bit of me in his character," Berg wrote of the soldier Wozzeck, "since I have been spending these war years just as dependent on people I hate, have been in chains, sick, captive, resigned, in fact humiliated." Berg finished the work in 1921 but had to wait another four years for its premiere.
3. Ralph Vaughan Williams
There are several accounts of how Ralph Vaughan Williams invented the bucolic melody his iconic work, The Lark Ascending, but all date to the eve of World War I. His wife said that he initially composed the piece, based on a George Meredith poem, while watching troops shipping off to France. However, a Guardian article traces its inspiration to the composer watching Naval exercises off the coastline in Kent. Regardless of its provenance, Vaughan Williams would abandon writing the piece to enlist in the British army at the end of 1914. He returned to it after the war had ended, adding what we can only imagine is a deeper sense of nostalgia for a simpler time.
4. Gustav Holst
In his masterpiece The Planets (1914–16), British composer Gustav Holst may have anticipated the oncoming horrors in the work's first movement, "Mars, The Bringer of War." However, Holst hadn't actually seen battle at that point. He tried several times to enlist in the British services, but he was deemed unfit for active service. Eventually the YMCA tapped him in 1918 to be a music organizer in the Near East, and Holst set off to Salonika in northern Greece where he taught and arranged concerts for British soldiers. In 1919, he reflected on the Great War with his Ode to Death, an ethereal choral piece based on a Walt Whitman text.
5. Fritz Kreisler
A day after realizing that his former regiment was mobilizing, then 39-year-old violinist and composer Fritz Kreisler prepared to report for duty in the Austrian army's Fourth Battalion. Kreisler's keen musical ear proved an asset as he could detect the type and trajectory of missiles in midair. Sent to the Eastern Front, Kreisler was injured in battle in a skirmish against Russian forces and was sent home after barely one month. Despite his wounds, he recovered to the point where he could resume playing the violin. He left war-torn Europe for the United States at the end of 1914, and published his memoir Four Weeks in the Trenches a year later.