NFL Football's Epic Sound Created by Composer Sam Spence
Friday, September 30, 2016 - 09:55 AM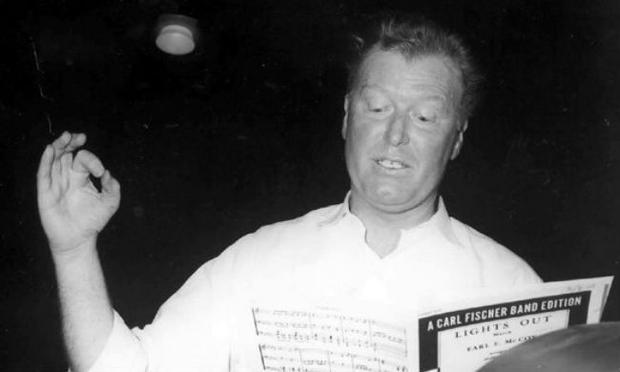 (NFL Films)
When you watch sports highlights today, the background music is often forgettable at best. But let's take it back to 1966, the year an American composer named Sam Spence was hired to score the soundtrack for mini-documentary videos for an upstart New Jersey production company called NFL Films. Spence died earlier this year, one day shy of Super Bowl 50. Before we scramble to our couches on Sunday afternoon, let's listen to a few tunes that defined his distinct sound and his contributions to sports soundtrack scoring.
 Classic Battle
Spence had a knack for making your average football game feel like a battle between warring nations. In "Classic Battle", a lone bassoon awakens the rest of the orchestra into a rousing call to action before kickoff.
The Raiders
When paired with the dulcet narration of John Facenda reading "The Autumn Wind", Spence's music helped to mythologize the spandex-clad athletes that grace national televisions every blustery Sunday. Nowhere is this more apparent than in "Raiders", a short piece that accompanies an ode to the Oakland football club.
Magnificent 11
Spence caught some negative criticism for "borrowing" heavily from other popular sounds of the day. However, some would argue that he used those sounds to make his compositions more familiar to new listeners. Take a Listen to "Magnificent 11", and see if it evokes the soundtrack for a Western of a similar name.
The Over Hill Gang
Composers from Strauss to Sousa have loved to write marches, and Spence is no exception. The strict rhythms and military associations perfectly fit his image of the romantic football warzone.
Up She Rises
Spence's music wasn't just limited to the on-field action— a lot of it seeped into pop culture, too! If you have a keen ear you may have noticed it on The Simpsons or King Of Queens. "Up She Rises" quotes extensively from "Drunken Sailor", so it's no surprise it was heavily featured on the beloved cartoon Spongebob Squarepants.
More in:
James Bennett II is a staff writer for WQXR.
The WQXR e-newsletter. Show highlights, links to music news, on-demand concerts, events from The Greene Space and more.