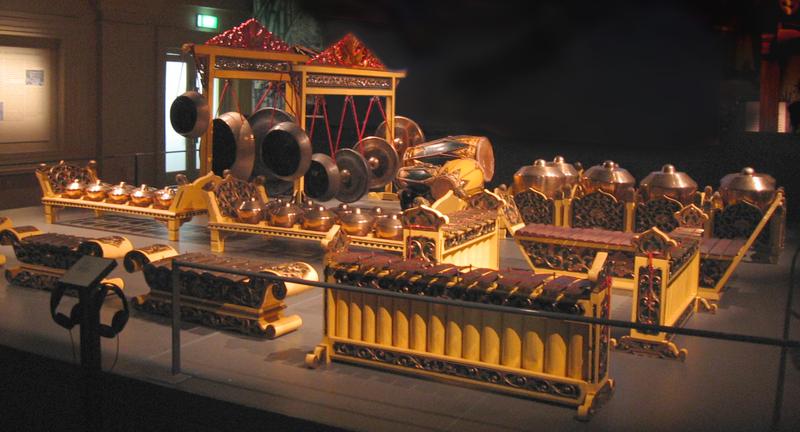 In Paris in 1889, a young composer named Claude Debussy saw a performance by an Indonesian gamelan — a collection of metal percussion instruments that served as the royal orchestra in the regional courts of that country. Debussy was astounded by the interlocking rhythm patterns and the exotic, chiming sound. And he was inspired to write a piano work that evoked those sounds, it's called "Pagodes."
After Debussy came a veritable parade of Western composers who have also fallen under the spell of the gamelan. Some, like Colin McPhee in the 1930s, went and lived in Indonesia for a while. Others, like Lou Harrison, built their own gamelans in the US. And still others found inspiration in the music of other islands in the South Pacific. We get just a sampling of this musical variety on this edition of The Furthermore.
Tune in Saturday at 9 pm and Wednesday at 10 pm on WQXR.
Program playlist:
Trad. Bali/arr. Colin McPhee: Pemungkah, excerpt
Colin McPhee and Benjamin Britten, piano
Trad. Bali: Pemungkah, excerpt
Balinese gamelan from "Music For The Shadow Play"
Claude Debussy: Pagodes
Joyce Yang, piano
Trad. Bali/arr. Colin McPhee: Gamangan
Nico Muhly and Thomas Bartlett, piano
Lou Harrison: Main Bersama-sama ("Playing Together")
Scott L. Hartman, French horn; Gamelan Sekar Kembar; Lou Harrison, suling (flute)
Annea Lockwood: Malolo
Santa Monica High School Women's Chorus
Stewart Copeland: Ay Manu Wata Hai (from "Rapa Nui")
Keali'I O Nalani Polynesian Choir; Stewart Copeland, conductor and percussion
Colin McPhee: Tabuh Tabuhan part one, "Ostinatos"
Eastman Rochester Orchestra; Howard Hanson, conductor
Steve Reich: Music For 18 Musicians, part three
Ensemble Signal; Brad Lubman, conductor
Ludwig van Beethoven: Piano Sonata No. 21 in C, "Waldstein," third movement, excerpt
Charles Rosen, piano
Ingram Marshall: Woodstone, excerpt
Berkeley Gamelan; Daniel Schmidt, conductor
Daniel Schmidt: And The Darkest Hour Is Just Before Dawn
Berkeley Gamelan; Daniel Schmidt, conductor and sampler