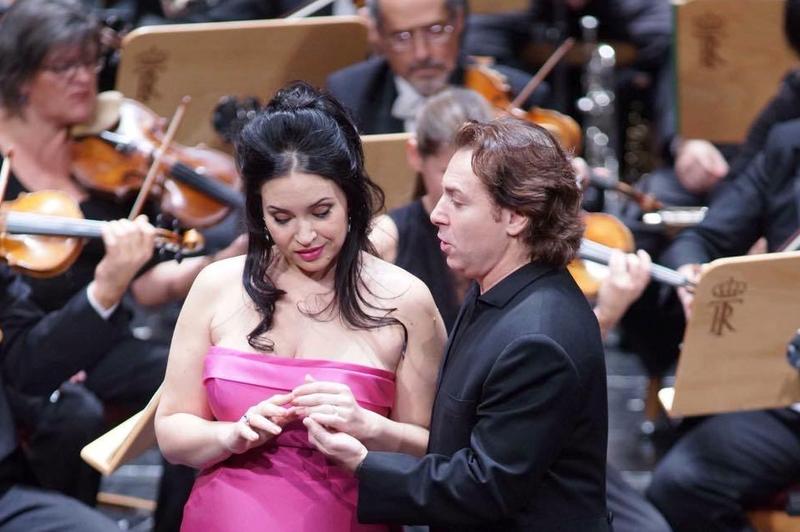 Gounod's popular Faust is far better-known than his later opera Romeo and Juliet. Still, of the scores — if not hundreds — of musical takes on the iconic Shakespeare tragedy, Gounod's version is one of a bare handful that still hold the stage today.
When Gounod turned his attention to Romeo and Juliet in 1867, he collaborated with the same librettists he worked with on Faust, Jules Barbier and Michel Carré. The two writers stuck fairly close to the original play by Shakespeare, though there are some changes. Barbier and Carré cut a few scenes that didn't deal directly with the two lovers. They also tweaked the ending.
In the play, when Juliet finally awakens in the tomb, Romeo is already dead. When she wakes up in the opera, Romeo still has a few flickers of life — enough for the two to sing a final duet before Juliet stabs herself and they die together.
On World of Opera, host Lisa Simeone presents Gounod's Romeo and Juliet in a production from the Royal Theater in Madrid. Soprano Sonya Yoncheva and tenor Roberto Alagna star in the title roles, in a production led by conductor Michel Plasson.
Cast:
Juliet: Sonya Yoncheva (soprano)
Romeo: Roberto Alagna (tenor)
Friar Lawrence: Roberto Tagliavini (bass)
Mercutio: Joan Martin-Royo (baritone)
Stéphano: Marianne Crebassa (soprano)
Count Capulet: Laurent Alvaro (bass)
Tybalt: Mikeldi Atxalandabaso (tenor)
Gertrude: Diana Montague (mezzo-soprano)
Duke of Verona: Fernando Radó (bass)
Benvolio: Antonio Lozano (tenor)
Madrid Symphony Orchestra
Intermezzo Chorus
Michel Plasson, conductor