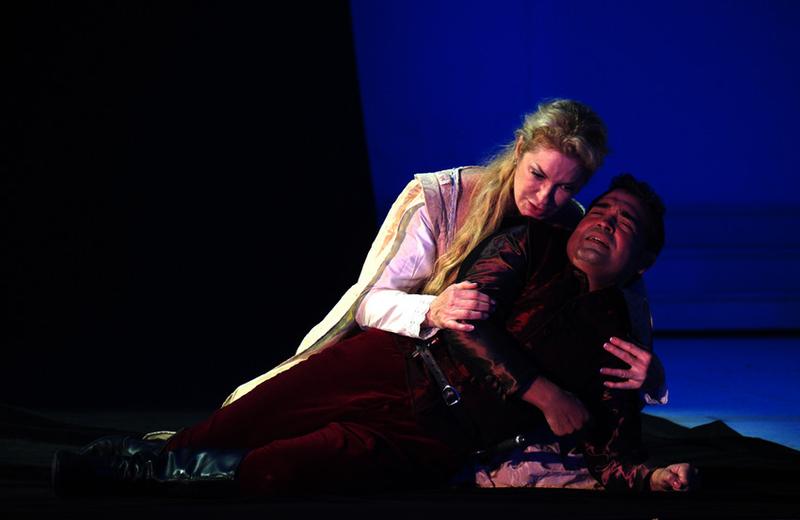 • Listen to the Operavore stream
This week, on World of Opera, host Lisa Simeone presents Gounod's Romeo and Juliet in a production from the Royal Wallonie Opera in Liège, Belgium.
While you might not think so, Charles Gounod's Romeo and Juliet, based on the play by Shakespeare, is one of the rarest things in opera. It's not just that it's based on Shakespeare's tragedy; there are plenty of other operas in that category. What's unusual about Gounod's version is that it's an opera based on Shakespeare that's actually a hit.
There are hundreds of Shakespeare operas, including about two dozen based on Romeo and Juliet. But, astonishingly, of those hundreds only a few are still seen regularly on today's stages. And of all the "R & J" operas, Gounod's is really the only one that has stuck in the repertory.
When Gounod turned his attention to Romeo and Juliet in 1867 he'd already had a big hit with another adaptation -- an opera based on Goethe's Faust. So for Romeo and Juliet, he collaborated with the same librettists he worked with on the earlier opera: Jules Barbier & Michel Carré. The resulting libretto is close to Shakespeare's original, but cuts a few scenes and tweaks the ending. Instead of Juliet awakening from her potion induced slumber to find Romeo dead, she wakes to a Romeo in his last flickers of life-- enough for the two to sing a final duet before Juliet stabs herself and they die together.
In this production, soprano Annick Massis and tenor Aquiles Machado star as the fated lovers in a performance led by conductor Patrick Davin.
Program Details:
Patrick Davin, conductor
Juliet: Annick Massis (soprano)
Romeo: Aquiles Machado (tenor)
Friar Lawrence: Patrick Bolleire (bass)
Mercutio: Pierre Doyen (baritone)
Stephano/Benvolio: Marie-Laure Conjaerts (soprano)
Count Capulet: Laurent Kubla (bass)
Tybalt: Xavier Rouillon (tenor)
Gertrude: Christine Solhosse (mezzo-soprano)
Duke of Verona: Patrick Delcour (bass)
Royal Wallonie Opera Orchestra and Chorus