In Uncertain Times, Grassroots Opera Keeps it Nimble
Saturday, April 05, 2014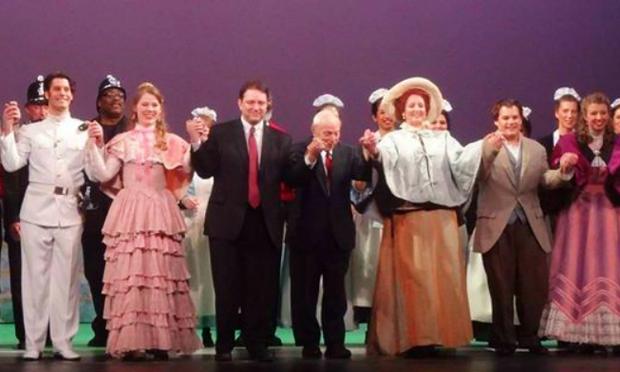 (Bronx Opera Company/Maureen Klein)
This Saturday at 12:30 pm, host Naomi Lewin explores the world of small, artist-driven opera companies—representing "grassroots opera." 
Marc Scorca, president and CEO of Opera America, talks about the perception of grassroots opera and how it has changed over the years. Then, we hear from the people who run two small, nimble outfits: Michael and Benjamin Spierman are the father-and-son team behind one of New York's most established companies, the Bronx Opera; Wesley Chinn is the founder of Opera Omnia, one of the newest on the scene. We hear performances from both of those companies, plus one by singers from Gotham Chamber Opera.
Interested in learning more about grassroots opera? Here's a list of links that will help you find a performance near you:
From this week's show:
Opera America: Opera America is the national service organization for opera and is dedicated to the creation, presentation and enjoyment of the art form.
Bronx Opera: In its 47th season, the Bronx Opera has long been apart of New York's performing arts scene. The Bronx Opera's two annual productions are always sung in English with a full chorus and orchestra, featuring talented singers selected from a semi-annual open competitive audition process. 
Gotham Chamber Opera: GCO is dedicated to creating performances with a high production value in intimate spaces. 
On Site Opera: Very new to the operatic scene, On Site Opera is its third season. The fledgling company is devoted to bringing opera out of the theater and into the community with productions performed with specific sites in mind.
Opera Omnia: This company concentrates on musical-dramatic works from the 17th century, performing them in English translation and modern staging. 
In the New York area:
New York Opera Alliance: The New York Opera Alliance is a consortium of New York opera companies and producers established to enhance and support the visibility and viability of the companies they represent.
Show Playlist:
Ricky Ian Gordon Orpheus and Euridice "Orpheus"
Elizabeth Futral, soprano; Todd Palmer, clarinet; Melvin Chen, piano
Ghostlight 84417
Gioachino Rossini La gazza ladra excerpt from Act I
Bronx Opera Orchestra; Michael Spierman, conductor
Jennifer Moore, soprano; Jason Coffey, baritone; C. David Morrow, bass
The Bronx Opera | Live performance from The Lovinger Theatre | January 2013
Francesco Cavalli's Giasone "Sleep now"
Avi Stein, music director; Hai-Ting Chinn, soprano; Cherry Duke, mezzo-soprano;
Opera Omnia | Live performance from WNYC's Soundcheck | September 2011
Nico Muhly Dark Sisters Act I, Finale
Neal Goren, conductor; Kristina Bachrach, soprano; Jennifer Check, soprano; Caitlin Lynch, soprano;
Jennifer Zetlan, soprano; Eve Gigliotti, mezzo-soprano; Margaret Lattimore, mezzo-soprano; Kevin Burdette, bass
Gotham Chamber Opera | Live performance from The Gerald W. Lynch Theater | November 2011
The WQXR e-newsletter. Show highlights, links to music news, on-demand concerts, events from The Greene Space and more.