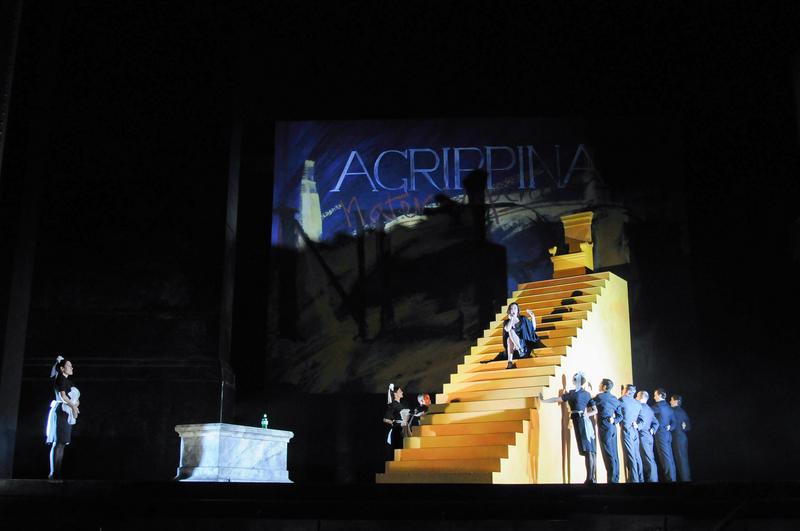 • Listen to the Operavore stream
Handel's Italian operas made him the toast of London long before his famous English oratorios caught the public's ear. His Agrippina is a comedic opera named after the shrewd and savvy mother of the ancient Roman emperor, Nero.
Agrippina is the sister of the infamous emperor Caligula. When Caligula and his family were killed, his uncle Claudius took over the throne, married his niece Agrippina and made Nero the heir. After Claudius was assassinated — in a poisoning for which many blame Agrippina — Nero takes the throne. Handel's opera tells this story in an over the top satire with allusions to the political landscape of Italy in the early 1700's. 
On this week's World of Opera, host Lisa Simeone presents Handel's Agrippina from the Grand Liceu Theater in Barcelona. The production features brilliant performances by mezzo-sopranos Sarah Connolly and Malena Ernman as Agrippina and Nero, led by conductor Harry Bicket.
Program Details:
Agrippina: Sara Connolly (mezzo-soprano)
Claudius: Franz-Josef Selig (bass)
Nero: Malena Ernman (mezzo-soprao)
Poppea: Danielle De Niese (soprano)
Ottone: David Daniels (counertenor)
Pallante: Henry Waddinton (bass)
Narcissus: Dominque Visse (countertenor)
Lesbo: Enric Martinze-Castignani (bass)