The Heavenly Blend of Sopranos and Mezzos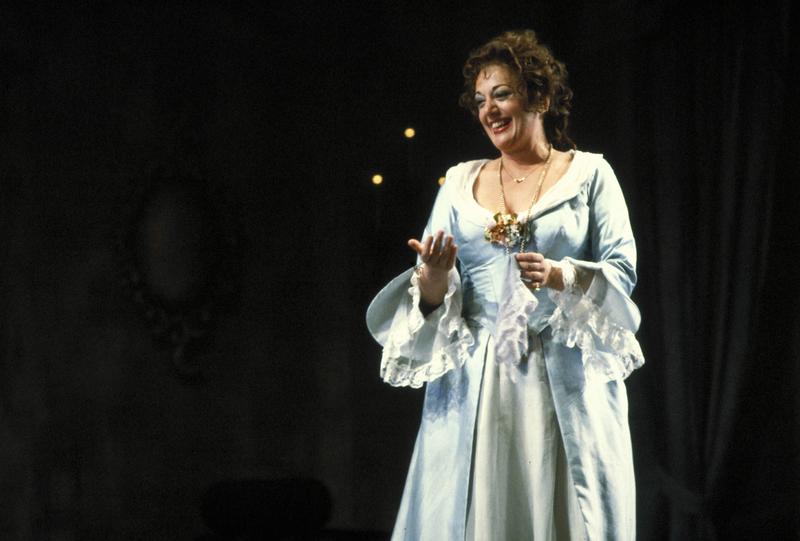 In the crazy world of opera, mezzos are usually the sane ones and the ones the soprano can trust. They're the servant, the companion, the sister or the gal pal. But sometimes they become the soprano's most fearsome rival. When that happens, they pull out all the stops and sparks fly.
This week, host Debbie Voigt offers examples of soprano/mezzo-soprano relationships illustrated with performance by Angela Meade and Jamie Barton; Kiri TeKanawa and Frederica von Stade; and Marilyn Horne, Tatiana Troyanos, Lorraine Hunt Lieberson and others.
Program playlist:
Madama Butterfly: "Flower Duet"
Giacomo Puccini
Mirella Freni, soprano
Christa Ludwig, mezzo soprano
Vienna Philharmonic
Herbert von Karajan, conductor
Decca 417 577-2
Eugene Onegin: "Pora, ditya moyo!"
Peter Ilyich Tchaikovsky
Nuccia Focile, soprano
Irina Arkhipova, mezzo soprano
Orchestre de Paris
Semyon Bychkov, conductor
Philips 438 235-2
Lakmé: "Vien, Mallika"
Leo Delibes
Natalie Dessay, soprano
Delphine Haiden, mezzo soprano
Orchestra du Capitole de Toulouse
Michel Plasson, conductor
EMI Classics DCDB 7243 5 56569 2
Werther: "Ah!  Le rire est béni" ... "Les larmes"
Jules Massenet
Christine Barbaux, soprano
Tatiana Troyanos, mezzo soprano
London Philharmonic Orchestra
Michel Plasson, conductor
EMI 7243 5 66516 2
Così fan tutte: "A guarda sorella"
Wolfgang Amadeus Mozart
Kiri TeKanawa, soprano
Frederica von Stade, mezzo soprano
Orchestre Philharmonique de Strasbourg
Alain Lombard, conductor
Erato 2292 45682-2
Norma: "Mira, O Norma"
Vincenzo Bellini
Angela Meade, soprano
Jamie Barton, mezzo soprano
Metropolitan Opera Orchestra
James Levine, conductor
Live performance recording courtesy of the Metropolitan Opera
The Merry Wives of Windsor: "Nein, das ist wirklich doch zu keck"
Edith Mathis, soprano
Hanna Schwarz, mezzo soprano
Staatskapelle Berlin
Bernhard Klee, conductor
Berlin Classics BC 2115-2
Ariodante: "Bramo aver mille vite"
George Frideric Handel
Juliana Gondek, soprano
Lorraine Hunt Lieberson, mezzo soprano
Freiburg Baroque Orchestra
Nicholas McGegan, conductor
Harmonia Mundi 907146.48
I Capuleti e I Montecchi: "Odi tu?" and "Vieni, Ah! Vieni"
Vincenzo Bellini
Anna Netrebko, soprano
Elīna Garanča, mezzo soprano
Vienna Symphony
Fabio Luisi, conductor
DG 00289 477 8031
Tancredi: "Dunque? ... Addio"
Gioacchino Rossini
Lella Cuberli, soprano
Marilyn Horne, mezzo soprano
Orchestra del Teatro La Fenice
Ralf Weikert, conductor
Sony Classical
Adriana Lecouvreur: "E sia!" [excerpt]
Francesco Cilea
Renata Scotto, soprano
Elena Obraztsova, mezzo soprano
Philharmonia Orchestra
James Levine, conductor
RCA Masterworks 79310-34588
Aida: "Fu la sorte dell'armi á tuoi funesta" & "Sul del Nilo al sacro lido"
Giuseppe Verdi
Leontyne Price, soprano
Grace Bumbry, mezzo soprano
The Metropolitan Opera Orchestra
Thomas Schippers, conductor
Sony Classical 88883721202-10