Her Music: Today's Emerging Female Composer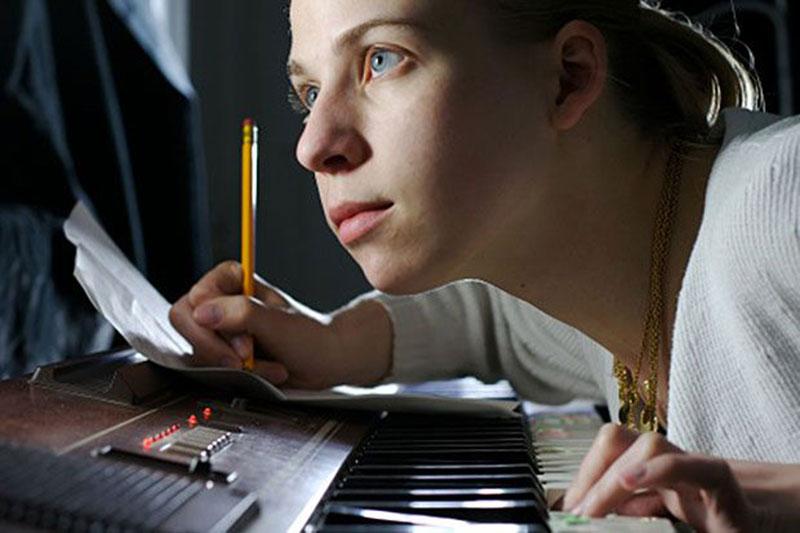 Even as women have achieved growing parity in the ranks of symphony orchestras and chamber music groups, their numbers suddenly thin out upon scanning the names of composers in a Playbill.
Q2 Music has analyzed several key areas in contemporary classical music. In the U.S., women hold only 15% percent of composition faculty positions; women constitute under 15% of living composers whose works were featured on recent orchestral seasons and new-music series; and in the history of prestigious composition prizes, women obtain top honors only 9% of the time. While a handful of established women have risen to garner these elite awards and lucrative commissions, emerging composers still struggle to break through and get their music heard.
With that in mind, Q2 Music is presenting Her Music, a 24-hour, no-repeats marathon of pieces by emerging female composers on Sunday, August 24. The day will spotlight and celebrate the dynamism and diversity of music-making around the globe, if still outside the major concert spotlight, and indirectly quash the notion of any discernible "female composer" sound. Voted by listeners into Q2 Music's 24 hours on the 24th monthly series, the marathon repeats Thursday, August 28.
A look at 20 of the top music schools in the U.S. (as named by U.S. College Rankings in 2012) in the chart below reveals that, in 2014, women hold only 15% of composition faculty positions, or 20 of the 151 current positions. In fact, over half of the elite schools have no women on their composition department faculty; and only the Curtis Institute in Philadelphia has a woman – Jennifer Higdon – as a department chair. In New York, the percentage of women in composition faculty for 2014 rises to 21% (or 14 of 67 positions), with almost 50% coming from the two SUNY faculties, at Stony Brook and Purchase.
We were not able to gather statistics on the expected gender disparity in the student bodies of higher education composition departments, but it's clear though that having more women in positions of influence sends a message that can only serve to empower and enable future generations of aspiring female composers. "A student should be able to believe wholeheartedly that they can reach those highest levels of compositional expression," wrote Jennifer Higdon in an e-mail, "Because so much of the world's population is made up of women, the presence of women composers can only help encourage those who would seek out music as a career (and as a form of expression)."
Q2 Music also looked at several new-music series and incubators (below). Our sample admittedly shows a New York bias and goes only so far in showing how emerging composers, male or female, get their music heard at the concert hall today. Nonetheless, women represent a staggeringly low percentage of living composers whose music is featured on major orchestra seasons or new-music series: 12% nationally as calculated from the League of American Orchestra's most recent 2010-2011 report; 13% in the complete six seasons of the New York Philharmonic's CONTACT! series; and 11% for the most recent five years of the Los Angeles Philharmonic's Green Umbrella series.
There are bright spots of gender balance in the new-music compositional landscape, however. Miller Theatre at Columbia University has brought gender diversity to its Composer Portraits series (an observation also made in 2013 by Alex Ross for the New Yorker). The International Contemporary Ensemble's ICElab – where composers are placed "in intensely collaborative incubation residencies" to develop new evening-length works – is another example. For both presenters, women represent 43% of composers over the past few seasons (women also serve as the chief administrators, with Miller Theatre's Melissa Smey and ICE's Claire Chase).
(Addition: This year, the League of American Orchestras will administer the first Virginia B. Toulmin Foundation commissions for two women composers in the early phases of their careers who have participated in American Composers Orchestra's EarShot program, a national orchestra composition discovery network. The $15,000 commissions will include world premiere performances of the new work with selected orchestras.)
A survey of prizes below including Pulitzer, Grawemeyer and Nemmers, also displays how underrepresented women are on the rolls of major composition awards and fellowships, amounting to only 9% of the total recipients. It should be noted that Finnish composer Kaija Saariaho has won a Grawemeyer (2003), Polar (2013) and the sole Nemmers to be awarded to a woman (2008).
There have been some encouraging bumps around a few top awards and fellowships in the last two decades however. Guggenheim Fellowships, considered an important career kickstarter, have gone to a growing number of women (now one out of every four prizes). Charles Ives Awards have risen to 19% for women composers; Arts and Letters Awards have gone from 9% women since 1941 to 17% in the last two decades. A Pulitzer Prize was given in 2013 to the young Caroline Shaw.
Opinions vary on this causes of the overall disparity in representation. Some point to lack of role models or mentors. Some suggest an old boys' network. Some to the idea that women are not culturally encouraged to ask for things. In an effort to sidestep established power structures, some women have formed their own series, presenting organizations, labels and ensembles. It's clear from the music that these increasingly recognized organizations generate that there is no lack of available compelling and innovative music from emerging female composers. 
For Her Music, we reached out to colleagues, new-music and female-composer advocates and presenting organizations, but also directly to listeners and communities of composers, and we're thrilled to present and premiere all the irresistible music we've discovered. The music ranges from the most active, spiky post-minimalism to the most luxurious neo-Romanticism and infectious indie-classical, and will sound no different from any other Q2 Music daily playlist. We welcome this marathon's injection of diversity into our general library of tracks which currently include only 14% of works by women.
For many years, critics have proclaimed the demise of classical music, and it's hard to not point to obvious gender, not to mention racial, imbalance as reason for classical music's continued relevance question. Efforts to prioritize diversity in programming and mentorship however have the counteracting effect of making for a healthier, more vibrant, and living ecosystem for all. So let's listen and get to work!