Metropolitan Opera
The Heroism and Devotion of Beethoven's 'Fidelio' Are Here for the Met Opera Broadcast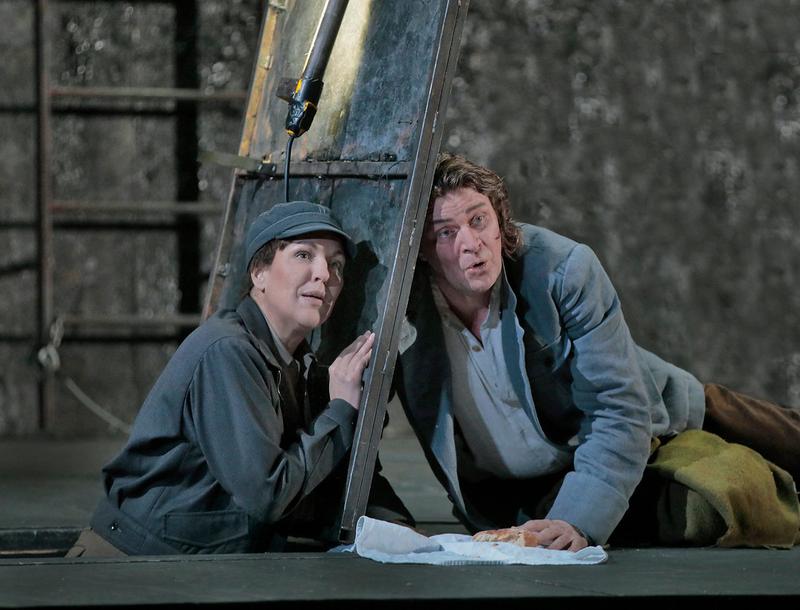 Fidelio, Beethoven's only opera, is at once tender and heroic. It asks the listener just how far they would go to save a loved one, and the unfolding drama peaks in one of the most memorable identity-reveals in the operatic repertoire. And on Saturday at 1 pm, you can enjoy the work in its entirety during the Metropolitan Opera Radio Broadcast.
Although Fidelio first premiered in 1805, the composer revised the work for almost a decade before the 1814 premiere of a final version. As discussed in this week's He Sang / She Sang podcast, the opera can be explored through the lens of Napoleonic history. For years, Beethoven admired the French general — it was to him that the German composer initially dedicated his third symphony, Eroica. But as Napoleon's appetite for power grew, Beethoven grew disillusioned. Fidelio, then, can be seen as a work that exalts the bravery of the ordinary person who remains unafraid of seeking justice in the face of tyrannical rule.
Beethoven's sole opera can be categorized as Singspiel, a dramatic form that utilizes spoken dialog between the more musical moments. The presence of the chorus also looms large; the "Prisoner's Chorus" and the joyous finale are unmistakably Beethovidian in nature.
If you have some time before the broadcast begins, be sure to listen the latest episode of He Sang/She Sang. It features guest Jessica Phillips, second clarinetist in the Metropolitan Opera Orchestra, and a deep discussion on Beethoven's revolutionary sound.
Cast:
Conductor: Sebastian Weigle
Leonore: Adrianne Pieczonka
Marzelline: Hanna-Elisabeth Müller
Florestan: Klaus Florian Vogt
Jaquino: David Portillo
Don Pizarro: Greer Grimsley
Rocco: Falk Struckmann
Don Fernando: Günther Groissböck