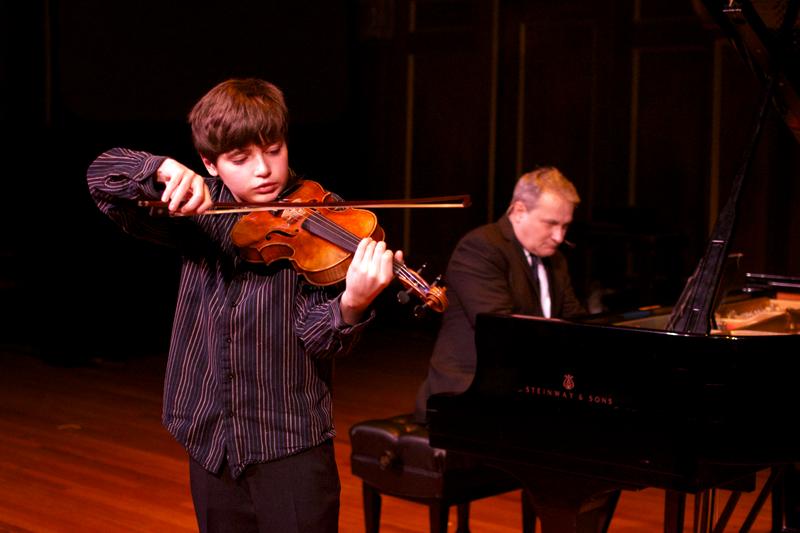 From our home in Boston, our 300th episode features an 11-year-old who is not only a precocious violinist, but also happens to be a budding meteorologist — his long-term forecasts on YouTube are impressively accurate. A young cellist performs the gorgeous Andante movement from Rachmaninoff's Sonata in G minor and we'll meet a pianist who, at the age of 14, has recorded all of the Opus 25 Chopin piano études.
Program playlist:
Henry Ayanna, 11, violin, performs Danse Espagnole by Manuel de Falla (1876–1946), arranged by Fritz Kreisler.
The Merit School of Music Honors Brass Trio, coached by Tim Riordan, plays Two Pastiches for Brass Trio by Walter Hartley (b. 1927).
Ricardo Zapata, 18, trumpet
David Sweeney, 18, French horn
Adriel Garcia, 17, trombone
Christopher Laven, 15, double bass, performs Chanson Triste by Serge Koussevitzky (1874–1951)
Anna Larsen, 14, piano, performs Etude No. 6 in G-sharp minor, "Thirds," and Etude No. 12 in C minor, "Ocean," Op. 25, by Frédéric Chopin (1810–1849) and the sixth movement, "54 Months and Counting," from her own composition, "Reflections."
Andrew Byun, 16, cello, performs the third movement, Andante, from Cello Sonata in G minor, Op. 19, by Sergei Rachmaninoff (1873–1943) and the third movement, "Danza Finale," from Suite for Solo Cello by Gaspar Cassadó (1897–1966).
Henry Ayanna's latest weather report: