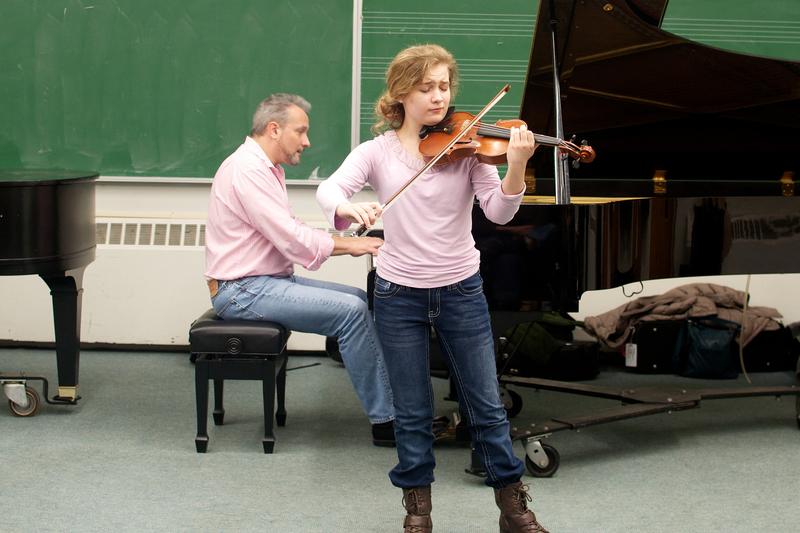 From our home in Boston, this week's program features a 13-year-old violinist whose performance of the music of Robert Schumann beautifully conveys the composer's romantic fervor. We also meet an internationally award-winning young pianist and a teenage boy shares the humorous story of studying and then rejecting about five different instruments before finally discovering his lifelong soulmate: the French horn.
Program details:
Violinist Masha Lakisova, 13, (Jack Kent Cooke Young Artist) from Vernon Hills, Ill., performs the first movement, Mit leidenschaftlichem Ausdruck, from Violin Sonata No. 1 in A minor, Op. 105, by Robert Schumann (1810–1856), with pianist Christopher O'Riley.
Flutist Elizabeth Sperry, 18, from Chelmsford, Mass., performs the fourth movement, Allegro con brio, from Flute Sonata in D major, Op. 94, by Sergei Prokofiev (1891–1953), with pianist Christopher O'Riley.
The Snitzer Quartet from the Settlement Music School in Philadelphia, Pennsylvania, performs Introduction and the third movement, Allegro vivace, from String Quartet No. 1, Op. 7, by Béla Bartók (1881–1945).
Violinist Beatrice Hsieh, 18, from North Wales, Penn.
Violinist Carolyn Semes, 17, from Broomall, Penn.
Violist Joseph Burke, 18, from Kendall Park, N.J.
Cellist Zachary Mowitz, 18, from Princeton, N.J.
Horn player Ray Seong Jin Han, 18, currently in Philadelphia, performs Rêverie, Op. 24, by Alexander Glazunov (1865–1936), with pianist Christopher O'Riley.
Pianist Yun Chih Hsu, 17, from New York City, performs Feux d'artifice (Fireworks) from Préludes, Book II, by Claude Debussy (1862–1918) and the fifth piece, "The Chase," from Out of Doors, Sz. 81, by Béla Bartók (1881–1945).