How to Get Kids to Fall (and Stay) in Love with Music
Monday, September 12, 2016 - 12:00 AM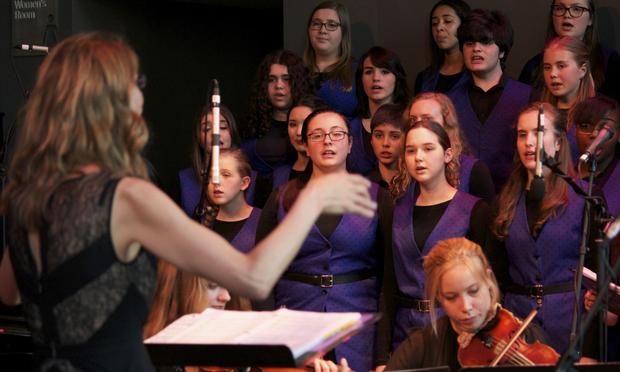 (Kim Nowacki/Q2 Music)
As school swings back into session — and along with it music lessons for a number of students — we spoke to Brooklyn Youth Chorus founder and artistic director Dianne Berkun Menaker about how to get kids to love music. This year marks the 25th season for the Brooklyn Youth Chorus, which is currently WQXR's artist-in-residence and currently teaches 600 students.
"I think for me it's pretty simple. The thing that's going to hook students first and foremost is the quality of the music that they're going to learn. There's good music and bad music in every genre in every style. If you're in an education setting, I think your job is to bring quality music to those students, and hopefully arrange music — if you're working with a culturally diverse population — that takes into account a variety of traditions and musical styles. If they love the music they're probably going to stay motivated.
"The next thing is teach them something. Show them how to develop skills, show them how to sing or play music better than when they came in the door. I have yet to see anybody who's developed the skill for something that doesn't then all of a sudden appreciate that thing all the more. I hear all of my students every single year, they all do individual evaluations, and to see these faces light up when they make a sound that they're surprised came out of their own body — all of a sudden this voice starts emerging — I can't think of anything more amazing and more motivating to stay invested in music.
"For kids to stay interested and motivated, though, the material has to be interesting and engaging. One of the ways we have structured our program is so the materials fit the maturity of the singer. Part of the problem when you're a beginner is your skill doesn't match your intellect. You want to perform pieces that are beyond your abiltiy to play, so finding those pieces of music that will have appeal is important
"Pacing also matters a lot in rehearsals, that there's this constant shift between times where the students can experience singing for the joy of singing and times when they're drawn back into focusing on more technical skills. There's also a delicate balance between keeping them from being overchallenged, where they're frustrated and they're kind of checked out, or being underchallenged, where they're really bored and going over things that they've done over and over and over again.
"We hold the students at the beginning because they love the sound of the music, they love the poetry or the style or the rhythm or the artist that we're collaborating with. Then you've got to teach them something because that's what moves it from being something they do for fun. Everybody can put the radio on and sing along, but if all of sudden they start to develop skills and understanding of the music, that's the main enjoyment that will multiply and keep them hooked. Skill plus understanding equals enjoyment." — As told to Amanda Angel
Below: Brooklyn Youth Chorus performs Pulitzer Prize winning composer Caroline Shaw's "Anni's Constant" from their groundbreaking production, Black Mountain Songs.

More in:
The WQXR e-newsletter. Show highlights, links to music news, on-demand concerts, events from The Greene Space and more.