Video: Timo Andres's Shy and Mighty Bed-Stuy Apartment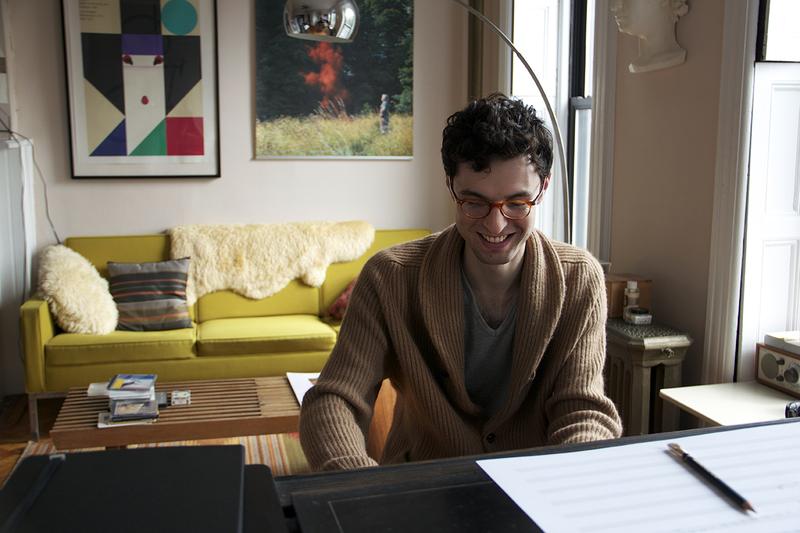 For this opening episode of Season Two of Q2 Spaces, composer-pianist Timo Andres takes us on a tour of his stylish and colorful apartment in Bedford-Stuyvesant, Brooklyn, and shares stories of mushroom-hunting with his former teacher, Ingram Marshall, his ambivalence to the idea of musical heroes, and how he could trace his whole persona back to Edward Gorey cartoons.
Connecticut-born Andres likens his music to "walking into an interesting apartment and seeing a few things next to each other that tell you something about a person." At once familiar and modern, forward-looking and reverent, Andres's music tells the story of a composer striving to reconcile a fascination with the past and composers ranging from Mozart to Chopin to Brian Eno, with a stylish, pointillist craftsmanship all his own.
Andres describes his "found sound" approach to composition as a kind of peculiar surgery, explaining that he will dissect the structure of a preexisting piece, remove its skeleton, and fill in his own notes to the skeleton. Other times he hunts for evocative, misfit chords – such as one from the second movement of Sibelius's Violin Concerto – to serve as a jumping off point, something which Andres is quick to illustrate at the piano.
Andres has already released two critically acclaimed albums on Nonesuch - "Shy and Mighty" (2010) with pianist David Kaplan and "Home Stretch" (2013) with the Metropolis Ensemble under Andrew Cyr.