Phil Kline
His Name Is Ives: 24-Hour Celebration of the Wild, Transcendent Music of Charles Ives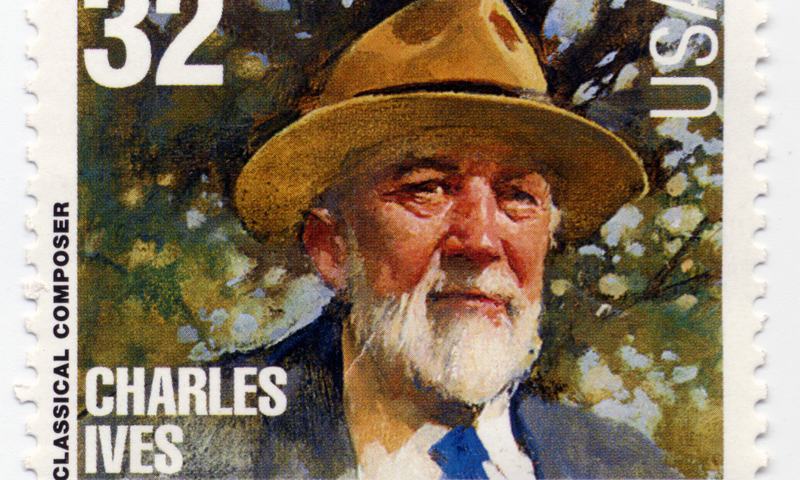 Join Q2 Music and host Phil Kline Friday, Oct. 24 for a 24-hour marathon celebrating the 140th birthday of American maverick, pioneer and perennial provocateur Charles Ives. 

From Phil Kline:

Once upon a time, after a weekly raid on the Akron Library record collection, I brought home a mysterious LP. The cover showed an old man looking out a window and contained a symphony by someone I'd never heard of, but it was played by Leonard Bernstein and the NY Phil, and there was this "bonus" 45 rpm disk, with a talk by Lenny. 

I put on the 45 first. Lenny said that Charles Ives was something of an American music saint, our "Mark Twain, Emerson and Lincoln all rolled into one," and that his music was wild and far ahead of its time, filled with quotations, dissonance, polytonality and multiple rhythms. I found the big disk, the Symphony No. 2, to be surprisingly easy listening, but it had a riotous ending, with patriotic hymns and bugle calls crowding each other to the finish line where a rousing "Reveille" from the brass ended abruptly on a whopping 11 note cluster. So who was this guy?

Charles Ives was born in Danbury, Connecticut in 1874, the son of an eccentric former army bandleader who built microtonal stringed instruments from farm equipment and trained his son to sing in one key while accompanied in another. One of Charlie's enduring childhood memories–one reenacted many times in his own music–was of George Ives leading his marching band in the town square while another band across the square played a different tune at the same time.

Charlie went to Yale, excelling in baseball and music. He studied with Horatio Parker and wrote his Symphony No. 1 as a senior thesis. (Years later, when Ives got Walter Damrosch to read though some of it with the New York Symphony, the conductor reportedly asked him how many keys he wanted to be in.) Although Ives worked as a church organist during and after his college years, he eventually got a job as an actuarial and went on to found the very successful Ives and Myrick insurance agency. Music would be a weekend activity.

But on those weekends, from the turn of the century until the mid-20s, when ill-health overcame him, Ives created a body of work unlike anything in music before or since. It revealed a sprawling, all-encompassing vision of America, steeped in the New England transcendentalism of Emerson and Thoreau and reveling in the independent spirit. In word and sound the music seemed to celebrate things as they are, finding beauty without prettification, and embracing the melodies and jargon of the street and music hall in the midst of a complex mystery.

There are four numbered symphonies, three other symphony-like pieces, several shorter but important orchestral works, two piano sonatas, one of them the staggering Concord Sonata, two string quartets, four sonatas for violin and piano, and a collection of 114 songs which Ives published himself. And while much of this music went unperformed for years, or was derided as crude or unlistenable when it was, Ives eventually began to draw a small but distinguished coterie of admirers, among them Henry Cowell, Aaron Copland, Elliott Carter, Nicholas Slonimsky, Bernard Herrmann and Lou Harrison.

Slowly but inexorably, the word about Ives began to get around. John Kirkpatrick's performance of the Concord Sonata at Town Hall in 1939 created a sensation and was reviewed by Elliott Carter in Henry Cowell's Modern Music periodical. Lou Harrison conducted the first public performance of Symphony No. 3 in 1946, 42 years after it was written, and the next year it was awarded the Pulitzer Prize. In 1951, Leonard Bernstein conducted the premiere of the 50-year-old Symphony No. 2 in a broadcast concert of the New York Philharmonic. The 87 year-old Ives heard this performance on a portable radio in his kitchen and was astonished at the rapturous reception.

Finally, in 1965, 11 years after Ives death and 40 after its completion, Leopold Stokowski led the premiere of the gigantic Symphony No. 4, a work of cosmic complexity requiring a chorus and an extra conductor. The scene at Carnegie Hall was a happening to rival Cage or Stockhausen. As the Ives centennial approached in 1974, recordings of his work proliferated and he came as close as ever to being "rep." Though his presence receded a bit after that, in 2004 the 50th anniversary of his death was observed in weeklong festivals by Juilliard and the New York Philharmonic.

Ives seems to be enjoying another comeback these days. Performances are picking up again and there are new champions such as Jeremy Denk and Hilary Hahn to help spread the message, along with Alan Gilbert, David Robertson, John Adams and his most venerable advocate, Michael Tilson Thomas. And yet, he is one of the few composers I ever find myself having to defend in public, for his supposed naivete, roughness, frequent quotation of vernacular tunes, and of course for the piling on of dissonant layers, which to some sounds like mere caterwauling.

Lenny had a good answer for all that. He said that while Ives wild side is impressive, one can easily turn to the quieter, consonant moments in any given piece and find the same man, the same philosophy. The songs provide endless examples of his sensitivity, sophistication and sureness of touch. And there's that Twain, Emerson and Lincoln business. I'd add Walt Whitman to that. I remember my great teacher Kenneth Koch talking about how discovering Whitman showed him and other poets how to find a naturally American voice, free of European influence. I'm sure that all those great musicians who took up Ives cause in the 30s and 40s found that in Ives, too. One of them, composer Elie Siegmeister , said "when Ives burst upon me, mainly through Henry Cowell, Benny Herrmann, Jerry Moross, Nicky Slominsky, circa 1931, it was like a real path for an American composer suddenly opened up, and one that's been with me ever since."

And there's was at least one European composer, a certain Arnold Schoenberg, who was impressed. Among his papers was found a note written in 1944:

"There is a great Man living in this Country – a composer. He has solved the problem how to preserve one's self-esteem and to learn. He responds to negligence by contempt. He is not forced to accept praise or blame. His name is Ives."

Join Q2 Music and host Phil Kline on Friday, Oct. 24 for a 24-hour marathon celebrating the life and times of America's "Twain, Emerson and Lincoln all rolled into one," Charles Ives.