Ivory Ticklers: Six Funny Classical Piano Comedy Routines
Tune in to WQXR on Tuesday for Some of These and Other Comedy Routines
Tuesday, April 01, 2014 - 12:00 AM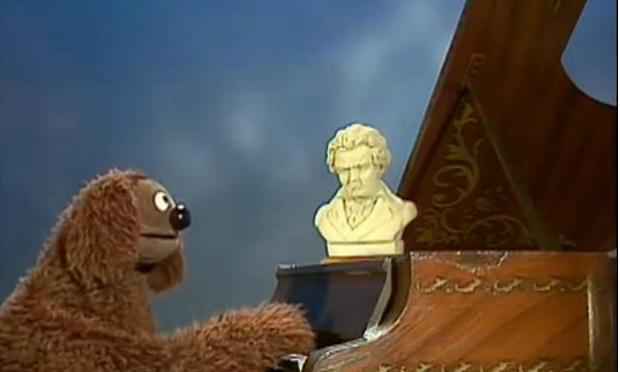 Although comedy and classical music might seem like an oxymoron, celebrated humorists have fused the two for decades. And while the accordion or trombone can be pretty funny, pianists have often excelled in the comedy role, from Victor Borge to P.D.Q. Bach. For this First of April, here are six standouts.
1. PDQ Bach: The Short-Tempered Clavier, No. 2 in C Major, S. easy as 3.14159265 
It is now almost 40 years since Peter Schickele invented P.D.Q. Bach, the "last and least" of Johann Sebastian Bach's sons. The good professor has "unearthed" upward of 100 pieces by his pet composer. The Short-Tempered Clavier is a wild, polyglot set of preludes and fugues for solo piano. Many of its themes will be familiar, including "Chopsticks" and "Shave and a Haircut, Two Bits." (Audio only)
2. Dudley Moore: Beethoven Parody: "And the same to you"  
When Dudley Moore starred on the British TV comedy series "Not Only but Also" he became known for his sublime melodic parodies. Among them was a "Colonel Bogey," played in the manner of Beethoven, complete with a rambling fugue and a coda longer than the whole piece.
3. Victor Borge plays Liszt's Hungarian Rhapsody 
Victor Borge, the godfather of classical music and comedy, can be found on YouTube clips including this gem. It features pianist Sahan Arzruni joining in a tag-team duet rendering of a Liszt Hungarian Rhapsody
4. Flanders and Swann: Ill Wind 
Flanders and Swann, the British comedy duo that delighted audiences from 1956 to 1967, were perhaps best known for their setting of the rondo from Mozart's Horn Concerto No.4.  
5. Rowlf the Dog Plays Beethoven 
Known as much for his dry wit as his unique piano artistry, Rowlf the Dog gave a memorable performance of Beethoven's Pathetique Sonata in this episode of "The Muppets."

6. Ingudesman & Joo: Mozart Will Survive
The conservatory-trained violinist Aleksey Igudesman and pianist Hyung-ki Joo have played to packed concert halls around the world and made a name for themselves on YouTube through clips like this one:

More in:
The WQXR e-newsletter. Show highlights, links to music news, on-demand concerts, events from The Greene Space and more.