Keep Cozy With Groupmuse's Intimate Holiday Concerts
Friday, December 09, 2016 - 12:00 AM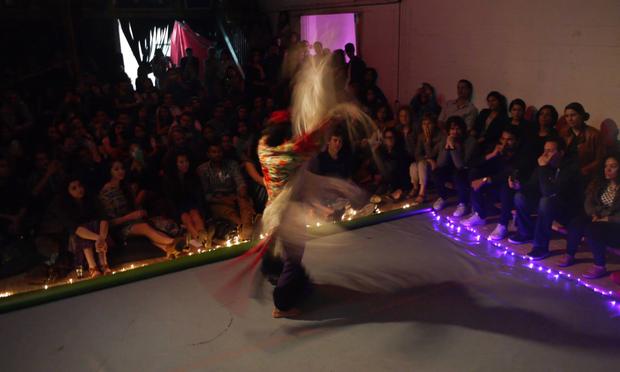 (Groupmusic)
By now you may have heard of Groupmuse, the company that's taking music out of the concert hall and into the living room. And just in case you haven't, here's a quick rundown: users host "concert house parties," where they open their home to a listening audience and live musicians who will play great works by composers from Purcell to Penderecki. The concerts, called Groupmuses, are intimate, connecting performers and listeners on a deeply human level. Emotional responses to the music are encouraged, and newcomers to the classical world are warmly invited.
That warmth is key to their mission and isn't in short supply this holiday season. With winter quickly approaching, Groupmuses offer are a great way to boost your holiday spirit. A quick look through the list of upcoming concerts reveals a number of holiday-themed gatherings, featuring the music of composers as diverse as Tallis, Mendelssohn, and Conrad Susa.
While the living room provides the primary stage for these musicians, there are plenty of opportunities for wider community engagement. On Dec. 15, Groupmuse will be hosting one of their "Nights Out" at St. Thomas Church in midtown Manhattan, with the Choir of Men and Boys performing Britten's A Ceremony of Carols. Groupmuse Founder Sam Bodkin is looking forward to this upcoming performance, saying "we're incredibly excited to share our Night Out at St. Thomas Church with our community. The holidays are a time to reflect on the very big things, but in warm and intimate ways."
In January, they will be hosting a "Massive Muse" featuring music from African-American composer William Grant and an original Triple Concerto from the Warp Trio.
Whether you're new to classical music and focused on getting your feet (or ears) wet, or a longtime listener who wants to connect with the music in a new way, a Groupmuse event just might be the way to go. "There's hardly a more positive way to gather with friends and loved ones in these cold and snowy months than to be around beating hearts, sharing the great masterpieces of art music in warm living spaces around the city," Bodkin added, " so if you want to bring good people together to share in something both personal and enormous, think about hosting a Groupmuse this holiday season."
Keep the cheerful vibes flowing this month and invite some music inside to warm you up.
More in:
James Bennett II is a staff writer for WQXR.
The WQXR e-newsletter. Show highlights, links to music news, on-demand concerts, events from The Greene Space and more.