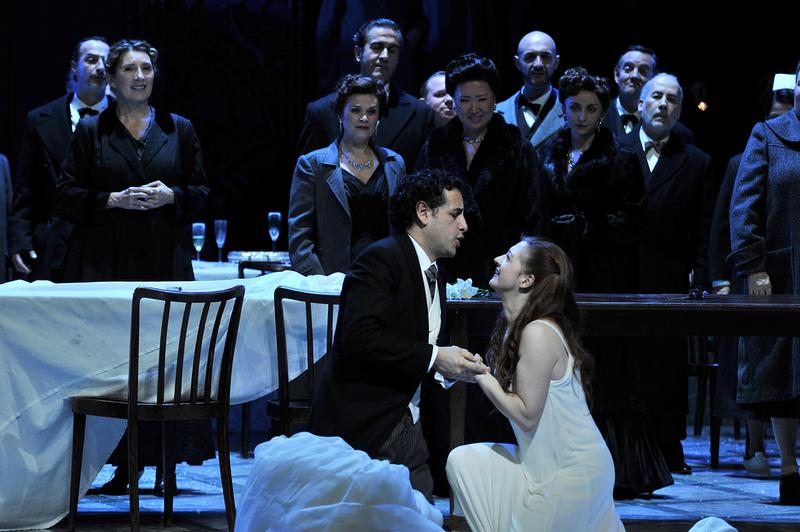 This week on World of Opera, host Lisa Simeone presents La Sonnambula from the Grand Liceu Theatre in Barcelona. The stars in this production truly are stars: the great bel canto tenor Juan Diego Flórez, and the exciting soprano Patrizia Ciofi, in a performance led by conductor Daniel Oren.
Until La Sonnambula, and after it as well, all of Vincenzo Bellini's mature works were designated as serious operas. They all featured betrayal, backstabbing, heartbreak and graphic death: throat-slitting, poison, immolation, you name it.
Bellini's first big hit was The Pirate, with a story of tragic love, blackmail, and murder. His next one was The Stranger, where we see a despondent lover stab himself to death in the middle of his own wedding! Then there's Norma, Bellini's most famous opera. In that one the title character is burned alive after falling for the wrong guy.
But La Sonnambula is something altogether different. Perhaps to appease the critics of his time, Bellini decided to compose an opera about an innocent mistake— a sleep walker who happens to end up in the wrong man's bed. Instead of our lead character burning at the stake, she's proven innocent in the end, though not without strife in the interim of course. 
This production features soprano Eleonora Buratto as Lisa and bass Nicola Ulivieri as Rodolfo as well as the Orchestra and Chorus of the Grand Liceu Theatre.
Cast:
Conductor: Daniel Oren
Amina: Patrizia Ciofi (soprano)
Elvino: Juan Diego Flórez (tenor)
Lisa: Eleonora Buratto (soprano)
Rodolfo: Nicola Ulivieri (bass)
Teresa: Gemma Coma-Alabert (mezzo-soprano)
Alessio: Alex Sanmartí (bass)
Notary: Jordi Casanova (tenor)
Orchestra and Chorus of the Grand Liceu Theatre