New York Now
Alarm Will Sound Performs Aphex Twin and Music from 'Hannibal'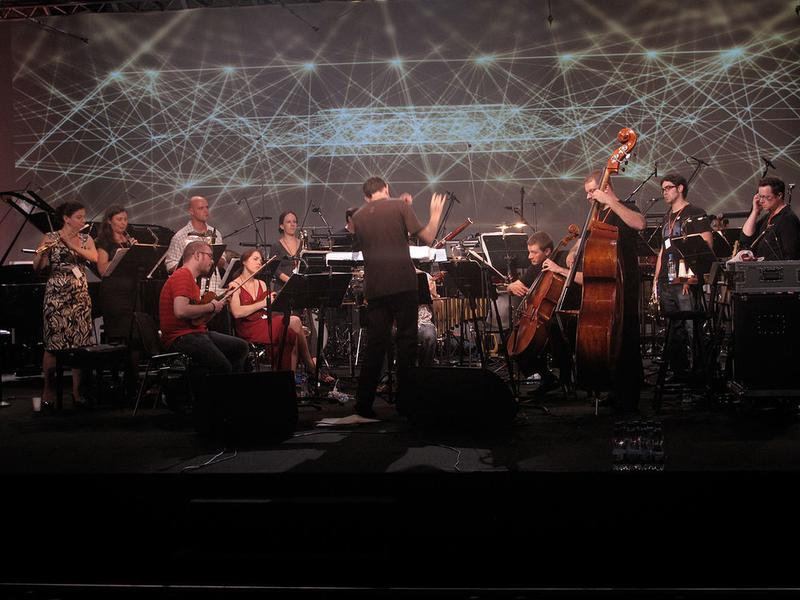 On May 13, 2017, the chamber ensemble Alarm Will Sound closed out the 2017 Ecstatic Music Festival live at Merkin Concert Hall with music of Icelandic composer/producer Valgeir Sigurðsson, Tyondai Braxton, Gameshow Outpatient (Matt Rogers) and Aphex Twin as well as newly-orchestrated selections of music from the television show Hannibal.
From the release of Acoustica – Alarm Will Sound's 2005 acoustic reworking of music by electronic musician Aphex Twin – the 20-member ensemble has specialized in performing music outside of the standard new-music repertoire. For this performance, AWS members Chris Thompson, Matt Marks and Alan Pierson, along with composer Christopher Stark arranged electronic selections from Brian Reitzell's score to Hannibal. Chris Thompson also arranged the lo-fi electronica of Gameshow Outpatient, a moniker of British composer Matt Rogers.
Listen to the full concert audio, including interviews with Alan Pierson, Nadia Sirota and Chris Thompson, at the top of this page, or isolated selections below.
Listen to performances from previous years of the Ecstatic Music Festival. Q2 Music is the digital partner of the Kaufman Music Center's 2016 Ecstatic Music Festival.