Alex Ross's Current Obsessions
Tuesday, December 27, 2016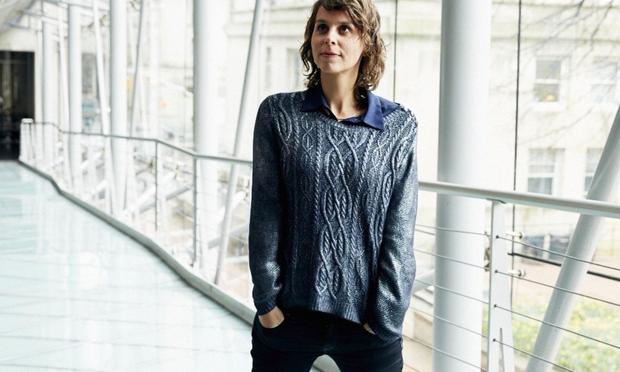 (Courtesy of the Artist)
Living Music. Living Composers.

More
Join Q2 Music this winter for weekly musical obsessions from noted New Yorker music critic Alex Ross. Each Tuesday at 1 pm, from November through January, we'll take in one of Ross's discoveries in its entirety. The selections will repeat Thursdays at 4 pm and Sundays at 8 pm.
From freshly pressed live concert recordings to obscure commercial albums, the author of The Rest is Noise will share works that are capturing his imagination, including pieces by the "composers of quiet" and younger, diverse voices that have yet to claim the spotlight.
We will update this page as the series progresses with past selections by Ross. Due to rights restrictions, we cannot make the pieces available for on-demand streaming.
Alex Ross's selection for:
Jan. 17 is Ashley Fure's Bound to the Bow (Interlochen Arts Academy Orchestra): "In Samuel Taylor Coleridge's Rime of the Ancient Mariner, the ill-fated seaman of the title shoots an albatross out of the air, dooming his vessel to drift aimlessly, 'as idle as a painted ship / Upon a painted ocean.' Ashley Fure's orchestral soundscape Bound to the Bow, premiered at the most recent NY Phil Biennial, broods magnificently on Coleridge's poem: she imagines that the albatross is lashed to the bow of the ship rather than draped around the Mariner's neck. The language is dense and abstract, pushing instruments far outside their comfort zones, yet it has intense pictorial power. You may hear the crashing of the waves, the creaking of the hull, the cries of souls animal and human. The abyssal depth of the sound makes me think at times of Wagner – whose final work, Parsifal, sings a requiem for a noble swan." -Alex Ross
Jan. 10 is Scott Cazan's Ingress (Scott Cazan, violin, electronics, field recordings, pitch pipe and mixer): "Cazan is a composer and sound artist based at CalArts, the legendary West Coast avant-garde hub. His way of working with electronic, instrumental and recorded sound is at once immensely sophisticated and viscerally hypnotic: you often have no idea of the source of the sounds caught in the thirty-seven-minute web of Ingress, but you may find it impossible to pull away once its irregular, mechanical pulsation has begun. The work has an imposing structural form: the first part is marked by glissandos that tend downward, while the last part is dominated by a blistering, apocalyptic ascent. At the midpoint is a distorted, echoey recording of airport announcements, underpinned by sepulchral drones. This recurs at the very end, giving the impression that we have arrived – like it or not – at our final destination." -Alex Ross
Jan. 3 is Michael Pisaro's Tombstones (Julia Holter, voice; Michael Pisaro, guitar; various others): "Michael Pisaro is another leading figure in the Wandelweiser collective, which tends to make music in the border zone between sound and silence. Tombstones, a cycle of works for voice and instruments, is atypical of Wandelweiser's unworldly aesthetic insofar as it is drawn from pop-music sources, although these are rendered all but unrecognizable. 'Blues Fall' meditates on a phrase from Robert Johnson's Hellhound on My Trail. 'Fool' pays tribute to the slowed-down remixes of DJ Screw, freezing chords from UGK's One Day. In 'New Orleans,' a line from Bob Dylan's 'Blind Willie McTell'—'All the way from New Orleans to Jerusalem'—is sung in a halting monotone. The cycle continues in this vein, erecting sonic monuments to charged moments. Pisaro has called the songs 'epitaphs for a period when there was some sort of political interaction between the songwriter and the world.'" -Alex Ross
Dec. 26 is Eva-Maria Houben's Abgemalt (R. Andrew Lee, piano): "'On the whole calm and quiet,' says the score of Eva-Maria Houben's Abgemalt, a series of 'paintings for piano' composed in 2009. There are eight pages, which may be played in whatever order the performer chooses. The sound-world is not unlike that of Morton Feldman's later music: isolated tendrils of sound tease the ear with tonal implications, never to be fulfilled. One sonority reminds me of the famous supertonic seventh chord that opens Beethoven's Sonata Op. 31 No. 3. Houben's is an inverted minor ninth, and it hangs in limbo between German Romanticism and the blues. This forbiddingly gorgeous music will disclose different secrets to each listener; the best preparation is silence and stillness." -Alex Ross
Dec. 19 is Scott Worthington's At Dusk (Scott Worthington, double bass): "Forty-five minutes of music for solo double-bass and electronics might seem like a strenuous listening exercise, but on his 2015 album Prism the Los Angeles-based composer-bassist Scott Worthington creates a spacious, variegated world from a spare array of materials. The music is generally contemplative in mood, but from its methodical working-through of motivic materials imposing structures emerge. The attenuated, keening melodies that he draws from his instrument's upper register are especially striking: I'm reminded of jet trails in a cold blue sky." -Alex Ross
Dec. 12 is Nico Muhly's Impossible Things (Nicholas Phan, tenor; Colin Jacobsen, violin; The Knights with Eric Jacobsen, conductor; recorded live June 9, 2016 at NY Phil Biennial): "The configuration of Nico Muhly's song cycle Impossible Things, for tenor, violin, and strings, immediately calls to mind Britten's Serenade for Tenor, Horn, and Strings. Although Muhly's vocal writing echoes that masterwork throughout—he has described the piece as a 'valentine to Benjamin Britten'—he casts his own spell, with a tonal language that mixes light and shadow, rapt lyrical lines and shivers of dissonance. The texts are by the gay Greek poet C. P. Cavafy, whose intermingling of erotic and spiritual longings elicits some of the finest, most fiercely expressive music of Muhly's career." -Alex Ross
Dec. 5 is Agata Zubel's Not I (Agata Zubel, vocals; Klangforum Wien with Clement Power, conductor): "The rise of the singer-composer is a signal trend in early twenty-first-century music, and Agata Zubel, a young star of the Polish scene, is one of its fieriest representatives. Not I, a setting of Samuel Beckett's 1972 monologue, serves as a vehicle for Zubel's startling vocal mutability, her way of swerving from songful purity to guttural violence. The work's irregularly intensifying crescendo structure is an unexpected response to Beckett's labyrinthine text, but Zubel seizes upon chaotic, vibrant energies below the surface, not least when the voice exclaims: 'What? . . who? . . no! . . she! . . SHE!'" -Alex Ross
Nov. 29 is Vijay Iyer and Wadada Leo Smith's A Cosmic Rhythm with Each Stroke (Vijay Iyer, keyboards and electronics; Wadada Leo Smith, trumpet): "'Obsession'" is the only word for the relationship I developed earlier this year with Vijay Iyer and Wadada Leo Smith's album a cosmic rhythm with each stroke. I heard the duo at the 2016 Big Ears Festival, and picked up the album immediately after. On a five-hour drive from Los Angeles to Death Valley, I listened to the suite five times in a row, and did the same driving back. The spareness of Iyer and Smith's gestures, the sense of open space around them, uncannily matched the desert landscape. The broken beauty of Smith's trumpet is at the center of the sound: it evokes all those lonely, noble trumpet solos in Copland's Americana pieces, but rejects their national mythology. Listening again now, I can't help hearing this music as a post-apocalyptic utterance: Iyer and Smith sound like the last people left on earth, wanderers in a wasteland." -Alex Ross
Nov. 22 is Liza Lim's Tongue of the Invisible (musikFabrik with André de Ridder, conductor; Omar Ebrahim, baritone; Uri Caine, piano): "The Australian-born composer Liza Lim is a model of the artist as global citizen, attuned to multiple cultures yet mindful of their right to speak for themselves. Tongue of the Invisible, an hour-long instrumental cycle from 2011, is based on the poetry of the great Persian mystic Hāfez, but it avoids facile gestures of appropriation, echoing aspects of Persian classical tradition from a respectful remove. Like many of Lim's scores, Tongue of the Invisible seems at once a work of independent creative imagination and a porous structure open to the world outside. On her blog, she talks about how she listens as she travels: her music seems, at least in part, a record of her radically receptive experience of the world." -Alex Ross
Nov. 15 is Chaya Czernowin's HIDDEN (Arditti Quartet): "In 1909, Schoenberg's "Farben," the middle movement of the Five Pieces for Orchestra, introduced the idea that music in a radical post-tonal language could give the impression not of disorder or extreme emotion but of the primordial majesty of nature. The original title was "Summer Morning by a Lake." Chaya Czernowin's "HIDDEN," for string quartet and electronics, seems to express a similar idea. The composer writes: 'The ear is given space and time to observe and orient itself in the unpredictable aural landscape. It is an underwater submerged landscape of rocks, inhabited by low vibrations which are felt rather than heard and with layers and layers of peeling away fog.'" -Alex Ross
Nov. 8 is Linda Catlin Smith's Dirt Road (Mira Benjamin, violin; Simon Limbrick, percussion): "A sixty-nine-minute suite for violin and percussion, slow in tempo and spare in texture, might seem a tough proposition, but the veteran American-Canadian composer Linda Catlin Smith can sustain interest with a bare minimum of notes. These weather-beaten melodies and beats, redolent of a remote folk culture whose language and history are lost, trace a world into which one wants to disappear." -Alex Ross
Nov. 1 is Jürg Frey's String Quartet No. 3 (Bozzini Quartet): "Jürg Frey belongs to the Wandelweiser group of composers, who tend to write slow, quiet, sparse music, interspersed with significant silences. Frey's Third Quartet is to some extent a typical Wandelweiser creation, with dynamic markings that range from pp to ppppp. Less typical is the whispery voluptuousness of the harmony, which sometimes recalls Schreker or early Schoenberg. This is music of enveloping mystery and enigmatic beauty." -Alex Ross
Alex Ross has been the music critic of The New Yorker since 1996. His first book, The Rest Is Noise: Listening to the Twentieth Century, won a National Book Critics Circle Award and the Guardian First Book Award, and was a finalist for the Pulitzer Prize. His second book is the essay collection Listen to This. In 2008 he received a MacArthur Fellowship. You can follow him on Twitter at @alexrossmusic.
More in:
The WQXR e-newsletter. Show highlights, links to music news, on-demand concerts, events from The Greene Space and more.