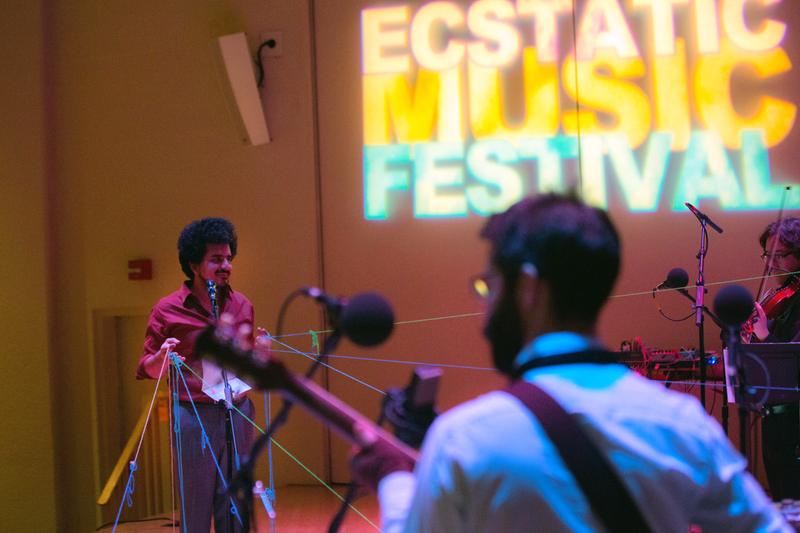 Songwriter and electronic musician Helado Negro joined the New York City-based experimental music collective thingNY onstage on Feb. 18 at the fifth annual Ecstatic Music Festival.
Helado Negro (Roberto Carlos Lange) marries elements of krautrock, lounge music, hushed folk and music of the Latin American cultures of his native Florida. The son of Ecuadorean immigrants, his lyrics are delivered in Spanish and English and, along with his music, are "suffused with tropical heat humidity and hurricanes."
ThingNY is a collective of composer-performers fusing electronic and acoustic chamber music with installation art, free improvisation and contemporary opera. Making up the collective are Paul Pinto, Alejandro T. Acierto, Gelsey Bell, Isabel Castellvi, Andrew Livingston, Erin Rogers, Dave Ruder and Jeffrey Young.
In true Ecstatic Music Festival fashion, the program opened with separate sets by Helado Negro and thingNY and culminated in a new collaborative composition. For the five-part Brain Finger Composition, Lange controlled musical parameters using yarn tethered to each of the musicians.
Q2 Music is the digital partner of the Kaufman Music Center's 2015 Ecstatic Music Festival. This recording was recorded and engineered by Bill Moss, Noriko Okabe and Jay Eigenmann.
*Some tracks contain language that listeners may find offensive.
Program