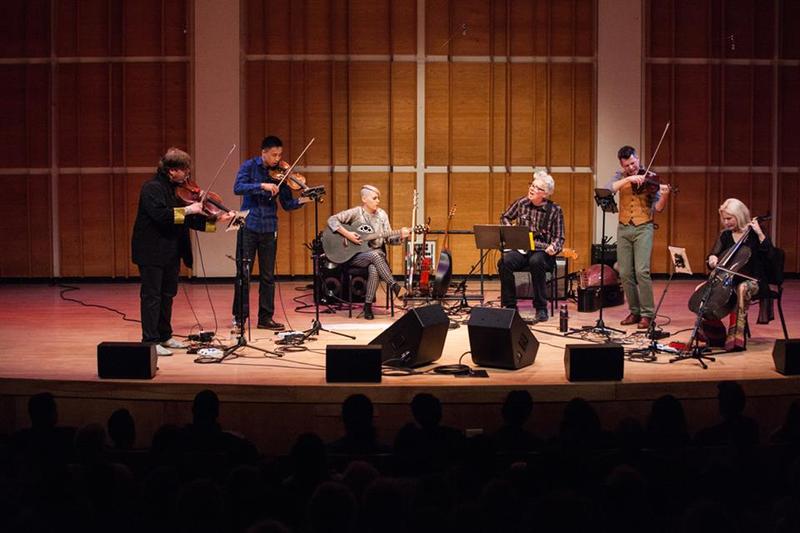 Saturday, March 21 at 7:30 pm, Q2 Music and New Sounds Live presented a live audio stream of ETHEL string quartet, guitarist Kaki King and multi-instrumentalist John King performing together at the Ecstatic Music Festival.
Composer and songwriter Kaki King is known for her percussive guitar playing which often incorporates non-standard tuning. In addition to multiple studio albums, she contributed music to the score for Sean Penn's Into the Wild.
Composer, guitarist and vocalist John King has received commissions from the Albany Symphony, Kronos Quartet, Bang on a Can All-Stars and the Merce Cunningham Dance Company. Piano Vectors, an upcoming evening-length work for six pianos will receive its premiere in late May at the Knockdwon Center in Queens..
Since 1998, ETHEL has made it its mission to push the string quartet repertoire forward; the ensemble has collaborated with a range of composers including John Zorn, David Byrne, Juana Molina and Judd Greenstein. ETHEL is currently touring behind Documerica, a multi-media presentation inspired by photographs of environmental decline.
Q2 Music is the digital partner of the Kaufman Music Center's 2015 Ecstatic Music Festival.
Program
Engineers: Edward Haber (technical director), Irene Trudel (music mix), Rick Kwan, Gil Shuster; F.O.H.: Jay Eigenmann