New York Now
The Knells, Duo Gazzana and Pianist Jenny Lin Close 2014 Look & Listen Festival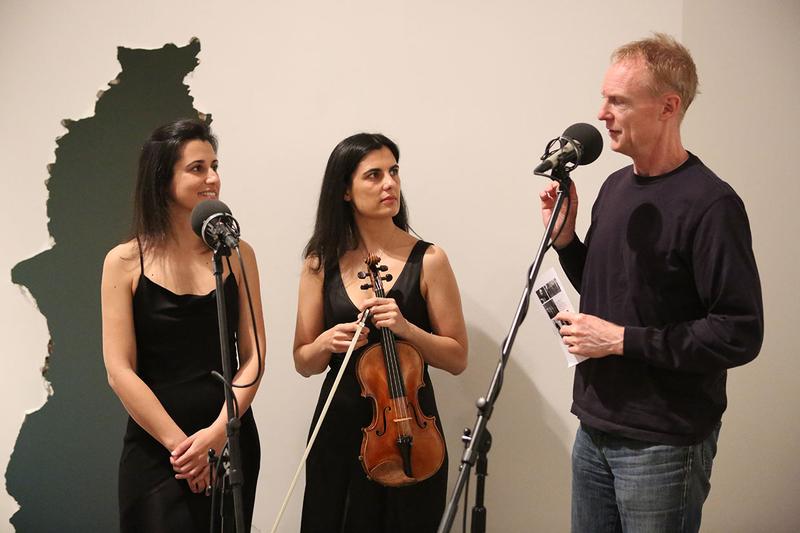 The final night of the 2014 Look & Listen Festival presented a mix of chamber works performed by Duo Gazzana, pianist Jenny Lin and songs by members of the neo-psychedelic prog-rock band, the Knells. The evening was hosted by WNYC's Jon Schaefer. 
The Italian Duo Gazzana, consisting of sisters Natascia on violin and Raffaella on piano, opened the concert with Valentin Silvestrov's Hommage à J. S. B., a meditative tribute built on sprawling intervals. This was followed by Andrew McKenna Lee playing his solo for electric guitar, Dying In Waves.
Lee was also joined by vocalists Nina Berman, Charlotte Mundy and Kate Maroney to perform a languid, contrapuntal song from his cycle Seethe. Pianist Jenny Lin closed the first half with a sampling of movements from Uri Caine's ebullient 9 Miniatures and Laura Kaminsky's Calendar Music. 
Following intermission, Lin returned to play three rigorous solos – Etude No. 16 by György Ligeti explores the idea that melodic figures specific to the piano are not just heard by the audience but also felt as a tactile shape. His Etude No. 1 is a study in fast polyrhythms, with the right hand playing only the white keys of the piano while the left hand plays only the black keys. For Stephan Moore's In Summary, a computer records all of the sounds in a concert venue for an hour leading up the performance. A set of pitches is derived from the recording and spatially notated over six minutes, which the pianist then interprets.
Francis Poulenc's monumental Violin Sonata performed by Duo Gazzana and Andrew McKenna Lee's crystalline songs Thread and Fray closed the evening. 
Complete Program:

Valentin Silvestrov – Hommage a J.S.B/
Andrew McKenna Lee – Dying in Waves
Andrew McKenna Lee – Seethe
Uri Caine – Selections from 9 Miniatures
Laura Kaminsky – Selections from Calendar Music
György Ligeti – Etude No. 16
György Ligeti – Etude No. 1
Stefan Moore – In Summary
Francis Poulenc – Violin Sonata
Andrew McKenna Lee – Thread and Fray
Audio recording by Bill Siegmund of Digital Island Studios, NYC