New York Now
Top Brass Ensemble Meets Accordion Virtuoso and String Quartet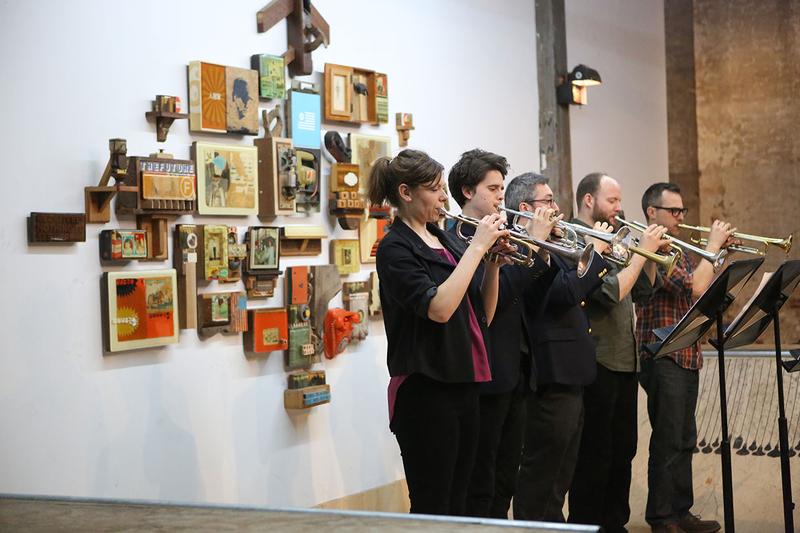 The third night of the 2014 Look & Listen Festival at the Invisible Dog Center featured the sounds of accordion virtuoso William Schimmel, the Daedalus Quartet and Tilt Brass. They performed excerpts from the winner of the Look & Listen Composers Competition, Solo Collections by Antonio Macaretti, along with works by James Tenney, Joan Tower, Risa Shoup and Christopher McIntyre.
Hosted by New Music USA's Frank J. Oteri, the concert began with two Verdi-inspired solos from Macaretti's award-winning wor, Solo Collections: Oniricum (col suono e la danza) featured William Schimmel on accordion, and the movement Biscaglia was performed by cellist Thomas Kraines. The collection was followed by String Quartet No. 5, "White Water" composed by Joan Tower for the Daedalus String Quartet.
After intermission, violinist Min-Young Kim delivered Macaretti's Cadenza, in which the violinist is required to perform a cadenza on each of a series of perfect authentic cadences. Tilt Brass, led by conductor Christopher McIntyre, ended the concert with two lush compositions - James Tenney's Homage to Perotin (In The Phrygian Mode), and the premiere of McIntyre's Dedifferentiation with Brass: Fabrics. The clearly articulated formal structures in Dedifferentiation, executed by three trumpets and three trombones, are intended both as stand-alone sounds but also as material to be disintegrated and incorporated in a new electro-acoustic collaboration with percussionist Dave Shively. 
Complete Program:

Antonio Macaretti – Oniricum
Antonio Macaretti – Biscaglia
Joan Tower – White Water
Antonio Macaretti – Cadenza
James Tenney – Homage to Perotin (In The Phrygian Mode)
Christopher McIntyre – Dedifferentiation with Brass: Fabrics
Audio recording by Bill Siegmund of Digital Island Studios, NYC