Lutosławski 101 with Esa-Pekka Salonen
Insights and Anecdotes from a Leading Lutosławski Proponent and Conductor
Thursday, November 07, 2013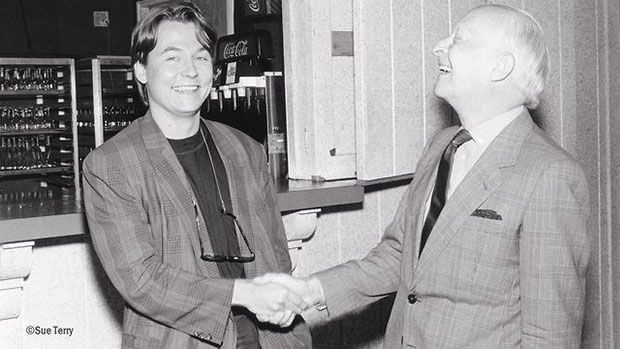 (Sue Terry)
On Tuesday, Nov. 12, Q2 Music presents Lutosławski at 100 – 24 hours of music hosted by Nadia Sirota celebrating the centenary of Polish icon Witold Lutosławski. Curated by composer and Lutosławski scholar Steven Stucky, Lutosławski at 100 comprises seven one-hour episodes (beginning at 1 am, 9 am and 5 pm) tracing the life and creative evolution of one of Poland's legendary musical voices, as well as Lutosławski 101 – a one-hour primer (at 12 am, 8 am and 4 pm) with insights from noted Lutosławski conductor Esa-Pekka Salonen. 
Living Music. Living Composers.

More

Q2 Music celebrates the Lutosławski centenary and Penderecki's 80th birthday with two live events and three 24-hour marathons that explore the beauty and dynamism of Poland's classical music scene.

More

Curated by composer-scholar Steven Stucky and hosted by Q2 Music's Nadia Sirota, Lutosławski at 100 traces the creative evolution one of the legendary musical voices of the last 100 years. Tune in all day Tuesday, Nov. 12.

More

Recommended Links
Esa-Pekka Salonen (b. 1958) first met Witold Lutosławski when the Finnish conductor was still in his teens, as a student at the Sibelius Academy in Helsinki. Salonen explains that their next encounter a few years later in Switzerland – over lunch in preparation for a Lutosławski festival Salonen would be later conducting – cemented the elder composer-conductor as the most important influence in his life during that period of his formative early 20s until Lutosławski's death in 1994. 
In this hour-long show, curated by composer-scholar Steven Stucky, host Nadia Sirota explores three critical works in Lutosławski's catalog, Musique funèbre, Concerto for Orchestra and Les Espaces du sommeil, while offering insights and anecdotes from Salonen on the quintessential Lutosławski sound, their early encounters and the composer's defining humility. 
* Introduction * Centennial Introduction by Steven Stucky 
* Lutosławski 101 * Insights and Anecdotes from Esa-Pekka Salonen
* Part 1 * Early Works and World War II
* Part 2 * The Postwar Period
* Part 3 * Breakthrough to Modernism
* Part 4 * Consolidating the Mature Style
* Part 5 * Heroism and Dissent
* Part 6 * The Late Style
* Part 7 * Last Thoughts
Celebrating Poland: Lutosławski, Penderecki and New Music Now is supported, in part, by the Adam Mickiewicz Institute as part of Polska Music programme, and is presented in partnership with the Polish Cultural Institute New York.
More in: