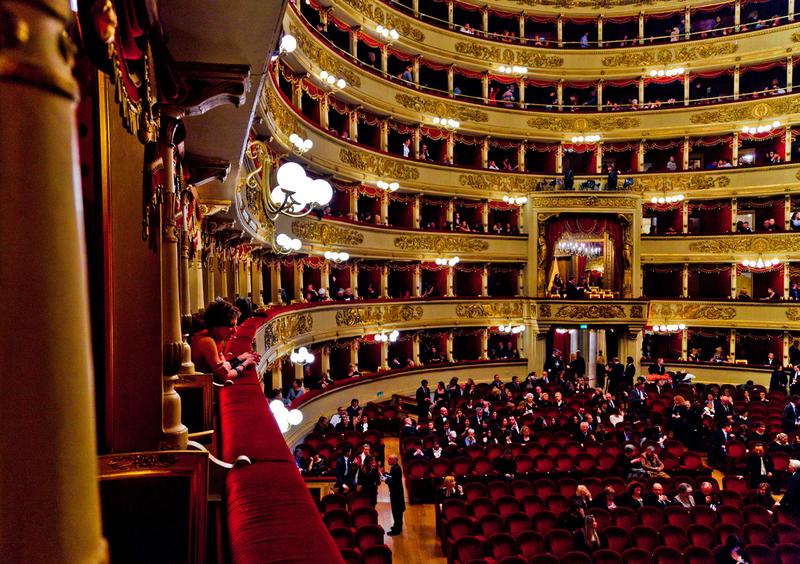 • Listen to the Operavore stream
On World of Opera, host Lisa Simeone presents The Tsar's Bride from the theater often regarded as the cradle of opera, La Scala, in Milan.
Though Rimsky-Korsakov is familiar to many music lovers for his brilliantly orchestrated concert music, he also wrote a dozen or so operas. Many of them are big productions based on fantastic stories from Russian folklore, but his 1899 opera The Tsar's Bride is different. It's a complex, psychological drama, steeped in history and driven by one of the same characters that later inspired the film, "Ivan the Terrible". It's also a fascinating attempt by a distinctly Russian composer to create an opera that leans heavily on a lyrical, almost Italian vocal style.
The story of The Tsar's Bride is about a single, mysterious event during Ivan's long reign: the tsar's marriage to his third wife, who died just days after their wedding. In the opera the tsar is a looming presence, who never utters a word. He has only a single stage appearance and his identity is revealed through a traditional Russian melody played by the orchestra. He's represented throughout the opera in the oppressive actions of his dreaded secret police, the oprichniks, who include some of the opera's most compelling characters.
This production stars soprano Olga Peretyatko as Marfa, baritone Johannes Martin Kränzle as the ruthless oprichnik Gryaznoy and mezzo-soprano Marina Prudenskaya as Marfa's tragic rival, Lyubasha. The performance is led by conductor Daniel Barenboim.
Cast:
Conductor: Daniel Barenboim
Marfa: Olga Peretyatko (soprano)
Lyubasha: Marina Prudenskaya (mezzo-soprano)
Gryaznoy: Johannes Martin Kränzle (baritone)
Likov: Pavel Cernoch (tenor)
Bomelius: Stephan Rügamer (tenor)
Saburova: Anna Tomowa-Sintow (soprano)
Sobakin: Anatoly Kotscherga (bass)
Malyuta: Tobias Schabel (tenor)
Dunyasha: Anna Lapkovskaya (mezzo-soprano)
La Scala Orchestra and Chorus