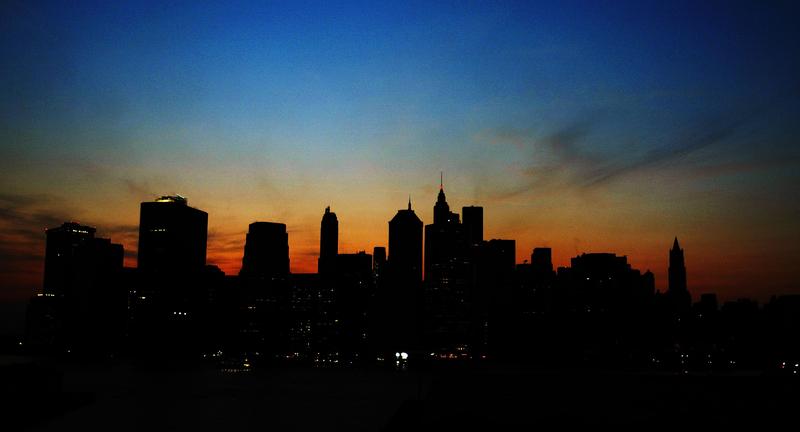 "Impromptu": something spontaneous, tossed-off, improvisatory. In classical music it resonates with Romantic treatments via Frederic Chopin, Franz Schubert and others; but for composer Brian Schober, the term has a weightier significance and serves as the creative launching pad for his vast, cinematic set of impressions for piano called the Manhattan Impromptus, a work explored in its entirety this week on Hammered!.
For Schober – a composer whose diverse stylistic language reflects an equally rich trio of teachers in Olivier Messiaen, Sam Adler and Joseph Schwantner – the Impromptu was the perfect musical form for his fleeting visions of New York City. He says the city, with all its diversity and spontaneity, captures the very essence of the impromptu, where "many seemingly incongruous elements are often thrown together with little, if any, foresight and are made to exist together. This in true in many areas: architecturally, culturally, socially, linguistically, etc. All of these wide-ranging concepts find their way into the music of this work [completed in 1996], with its proliferation and frequent juxtaposition of seemingly unrelated ideas."
This week tune in Monday through Wednesday for a complete performance of this fascinating, multi-dimensional work by pianistic powerhouse Stephen Gosling. Monday features Impromptus 1 through 4; Tuesday 5 through 7; and Wednesday, the conclusion, with Impromptus 8 through 10. Rounding out each hour are piano pieces by Messiaen, Esa-Pekka Salonen, Francis Poulenc, George Flynn (the final movement of his daunting epic, Trinity), David Lang, and others.
For those following along at home, here's Schober's program note to the Manhattan Impromptus:
[Stylistic dichotomies exist] from the very beginning, where in the first piece tonal and atonal ideas are made to exist side by side in a highly rhythmic and jazz-like context, increasing in intensity and dynamic range until the very end which employs the extremes of the keyboard. The second piece offers a complete contrast in its slow moving, static melody and simple harmonic accompaniment. The third piece is an homage to the player piano music of Colon Nancarrow, which has always fascinated me by its invention and rhythmical complexities. Many intricate rhythmic patters (including frequent use of a gradual increase and decrease of note values) are superimposed on each other to give an effect of an "out-of-kilter" barrel organ. The fourth piece is the most Chopinesque of the set, based mostly on simple triadic motives, and ending again with a dramatic flourish. The fifth again offers a complete contrast with what has preceded. This time, however, it unfolds with an ostinato of slowly moving harmonies.

The sixth piece is perhaps the most characteristic of the set and is a type of perverted Bach two-part invention. Here, a rather banal and perfectly tonal melody is put through all the manipulations of classic serial technique (prime, inversion, retrograde and retrograde-inversion), while appearing in each of the 12 major keys. This melody is accompanied by another single voice – disjointed, free and mostly atonal. The seventh piece was inspired by James Joyce's famous quote from the last paragraph of Finnegan's Wake -- "Soft morning city" – and is based on a slow ostinato of gradually increasing note-values played on a single note – the lowest D on the piano. The eighth piece was inspired by someone who I just happened to hear playing and improvising on the saxophone off in the distance while walking through Central Park late one evening. The ninth piece is another dramatic and highly virtuosic piece, based on a number of elements, in particular the fast repetitions of certain chords. The tenth and final piece brings the work to a quiet and peaceful conclusion with its long soulful melody, melodic ostinato and chorale-like coda.