New York Now
MATA Festival Explores Old Synthesizers, Harmonic Series and a 'Collage on Falling'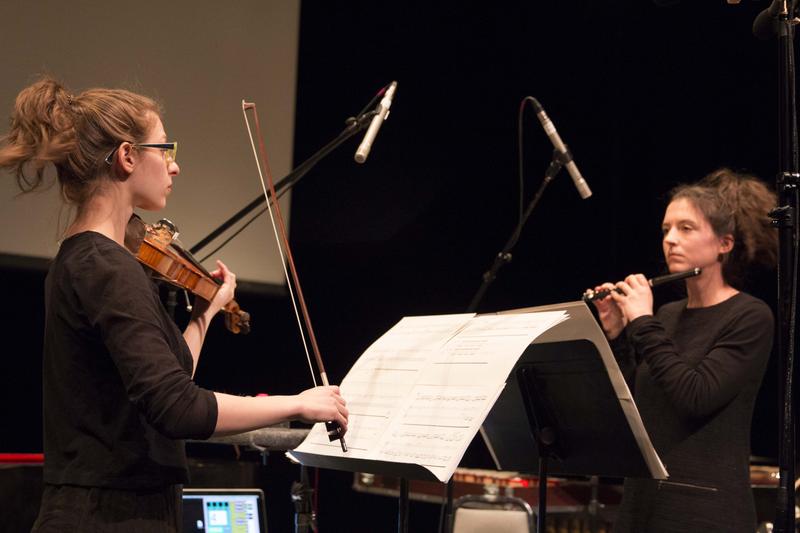 The second night of the 16th annual MATA Festival featured adventurous chamber music fresh from the desks of young Brazilian, Spanish and American composers, performed by a team of New York City's finest new-music interpreters.
The concert opened with em_bruto, composed André Damião Bandeira, which weaves together sounds of old synthesizers with computer glitches and mash-ups. The music triggered simple grey and black projections inspired by the interface aesthetics of the software Pure Data. 
Natacha Diels's playful duet A is for Alphabet required its performers - the composer herself on flute and piccolo with violinist Marina Kifferstein - to change the positions of their heads and bodies, sing and to trigger electronic sounds, in addition to playing their instruments. 
Pianists Vicky Chow and Karl Larson took the stage next, coaxing electronic-sounding music from a single acoustic piano in El Puerperio, a meditation on the 13th partial of the harmonic series by Rubens Askenar García Hernández. 
The world premiere of Alex Weiser's Rumbling Waves, a tonal duet on the theme of nostalgia for piano and percussion, featured Vicky Chow on piano and Matt Evans on percussion. Another world premiere closed the concert, this one commissioned by the MATA Festival from Carolyn Chen. Relationships with Gravity is scored for piano, percussion, violin and guxin (a plucked seven-string Chinese instrument played by the composer), and is described as a "collage on falling" by the composer.
Complete Program:
André Damião Bandeira: em_bruto
Natacha Diels: A is for Alphabet
Rubens Askenar García Hernández: El Puerperio
Alex Weiser: Rumbling Waves
Carolyn Chen: Relationships with Gravity
Recorded and mixed by Noriko Okabe.