New York Now
Mivos Quartet and Mantra Percussion Close the 2014 MATA Festival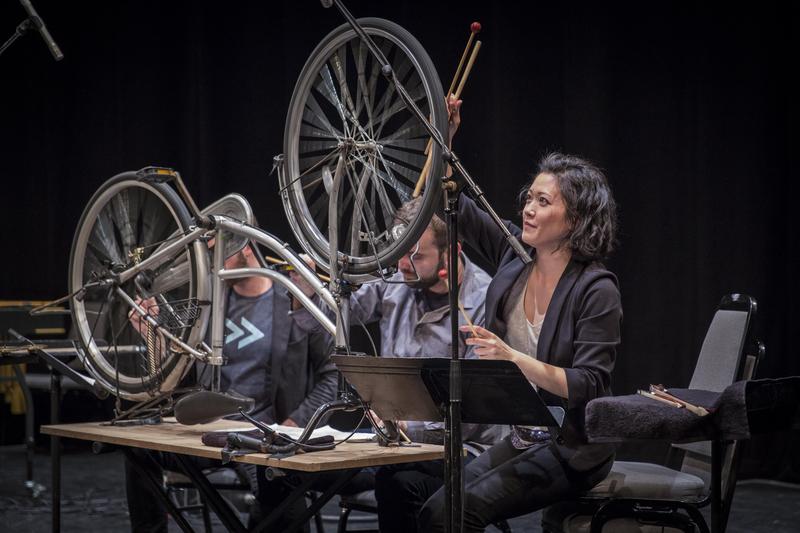 The closing night of the 2014 MATA Festival featured new works by American, Chinese and Swedish composers performed by New York City-based ensembles, Mivos Quartet and Mantra Percussion, on April 21 at the Kitchen.
Mivos Quartet opened the program with the winner of the 2013 I Creation/ Mivos Composition Prize for composers of Chinese descent, Ke Xu's Tai Chi (which translates as "supreme ultimate force.") Next, in Play Time, Lisa Streich's tribute to Jacques Tati, three members of Mantra Percussion mined a bicycle for sound by scraping, plucking and beating. The first half of the concert ended with Yotam Haber's string quartet, Torus, inspired by Richard Serra's massive sculptures.
In Pelerinage Fantastique by Angsar Beste, Mivos used their string instruments percussively and threaded knitting needles through the strings to manipulate timbre and effect. Paula Matthusen's setting of a Norwegian Table Prayer for soprano, vibes and electronics, The Days are Nouns, featured vocalist Jamie Jordan and the composer herself on electronics. Rounding out the program was Progression, a seamless, continual transition from bright to dark tonalities, written for both ensembles by Daniel Wohl.
Complete Program:

Ke Xu – Tai Chi
Lisa Streich – Play Time
Yotam Haber – Torus
Angsar Beste – Pelerinage Fantastique
Paula Matthusen – The Days are Nouns
Daniel Wohl – Progression
Recorded and mixed by Noriko Okabe.