New York Now
MATA Festival 2014 Opens Somewhere Between Noise and Silence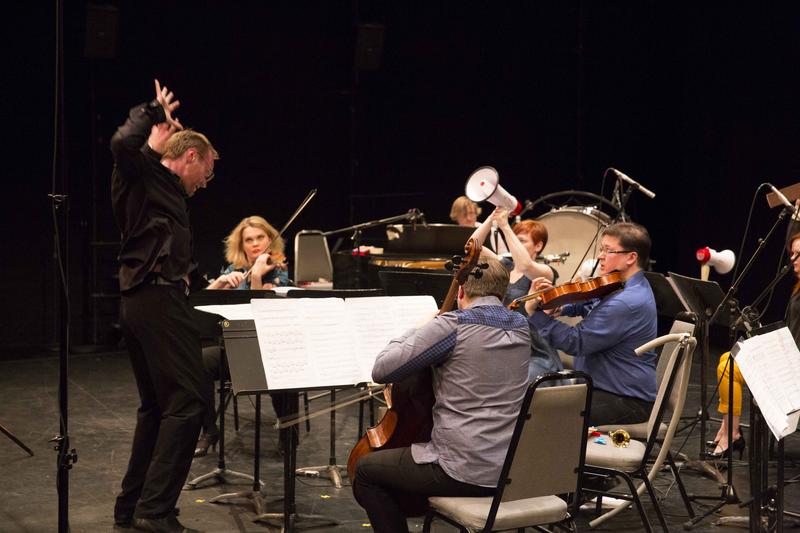 Finland's chamber ensemble Uusinta performed an eclectic program of new music for the opening night of the 16th annual MATA Festival at the Kitchen on April 16. In their New York premiere, the octet played works by young composers from Finland, Catalonia, Japan, Russia and the U.S.
The program opened with [IVflbclVIvln_c], a short work packed with extended techniques and virtuosic atonal passages, scored in semi-graphic notation by Joan Arnau Pàmies. The chaotic quintet was followed by Sampo Haapamaki's precise mictrotonal string quartet, Connection. Kellojen Kumarrus, a lyrical elegy for string quartet and piano by Ilari Kaila, brought the first half of the concert to a consonant end.
The two Finnish works were followed by the American Aaron Helgeson's clarinet solo, A Place Toward Other Places, which made unusually affecting use of clarinet harmonics, performed deftly by Lauri Sallinen. Alexander Khubeev's creaking, groaning Sounds of the Dark Time for ensemble and electronics provided further insight into the non-conventional capabilities of classical instruments. 
The night ended with a bombastic world premiere combining Japanese folk music, death metal and New Complexity. Hikari Kiyama's Joruri Death Metal, commissioned by MATA, employed megaphones, toy xylophones and other noisemakers, providing a fitting conclusion to the experimental festival's opening night.
Complete Program:

Joan Arnau Pàmies – [IVflbclVIvln/c]
Sampo Haapamäki – Connection
Ilari Kaila – Kellojen Kumarrus
Aaron Helgeson – A Place Towards Other Places
Alexander Khubeev – Sounds of the Dark Time
Hikari Kiyama – Jōruri Death Metal
Recorded and mixed by Noriko Okabe.