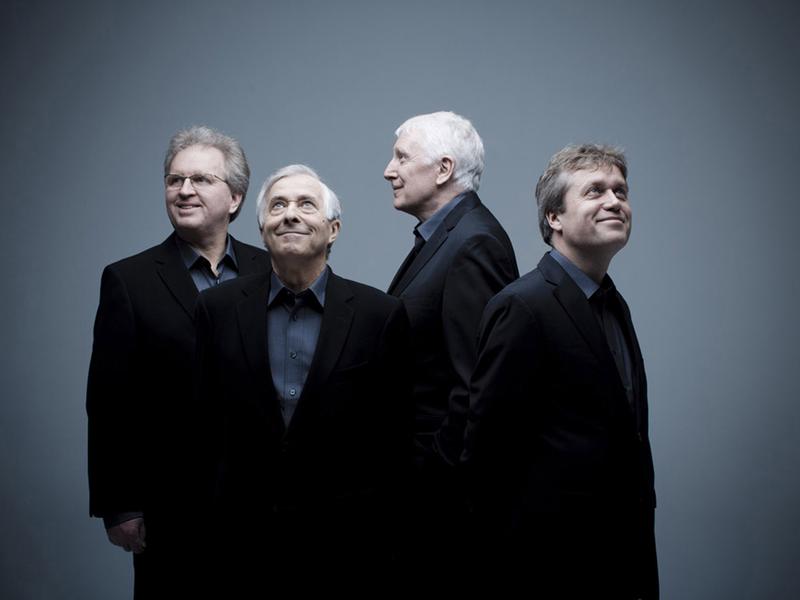 Around 800 years ago, the first stirrings of what would become Western classical music could be heard. In Germany, the visionary abbess known as Hildegard of (or Von) Bingen was creating incredibly embroidered melodies that hinted at an ecstatic spiritual state — quite a change from Gregorian chants' restrained, step-wise motion. In France, the mysterious Perotin was working at the Cathedral of Notre Dame on music that featured multiple voices singing in a kind of rudimentary harmony.
Centuries later, some of America's finest composers — and one of its most famous filmmakers — have felt the pull of this early medieval music. On this edition of The Furthermore, we'll hear Aaron Jay Kernis's "Musica Celestis," a tribute to Hildegard, and Steve Reich's "Proverb," modeled on a well-known Perotin work. (Both Kernis and Reich are Pulitzer Prize-winners.) We'll also hear a live performance of a Hildegard song in an arrangement by film auteur David Lynch, and a string quartet piece by the late Lou Harrison based on an 800-year-old German troubadour song.
Tune in Saturday at 9 pm and Wednesday at 10 pm on WQXR.
Program playlist:
Hildegard von Bingen: O Viridissima Virga, excerpt
Gothic Voices
Hildegard von Bingen/arr. David Lynch: O Viridissima Virga
Jocelyn Montgomery, soprano; David Lynch, sound design
Aaron Jay Kernis: Musica Celestis
Minnesota Orchestra; Eiji Oue, conductor
Gregorian Chant: Alleluia Multifarie, excerpt
Choir of Monks of Liguge Abbey
Perotin: Beata Viscera
The Hilliard Ensemble; Jan Garbarek, saxophone
Perotin: Viderunt Omnes, excerpt
The Hilliard Ensemble
Steve Reich: Proverb
Theater of Voices; Paul Hillier, conductor
Gregorian Chant: Victimae Paschali Laudes
Choir of Monks of Liguge Abbey; Michel Godard, tuba
Lou Harrison: Variations on "Nu Alrest Leb'ich Mir Werde" from String Quartet Set
Kronos Quartet